Chief Mark V. Trostel Biography
Chief Mark V. Trostel is a 53-year-old, third generation Colorado native. Graduating from Fort Lupton High School in 1973, he earned a wrestling scholarship to attend Fort Lewis College in Durango, Colo. There, he earned a Bachelor of Science degree with a major in biology.
The Chief is married to P.J. and has four children and five grandchildren. He enjoys riding horses, rodeos and all other outdoor activities. He also enjoys reading and spending time with his family.
A graduate of the FBI's National Academy in Quantico, Virginia (NA-184), he also has attended Northwestern University's School of Police and Staff Command (SPSC-34), the University of Colorado Rocky Mountain Program and Harvard University's JFK School of Government in 2003.
Having the opportunity to serve on various law enforcement boards across Colorado and the nation during his tenure with the Colorado State Patrol, the chief has served as the 2003 Region IV president for the American Association of Motor Vehicle Administrators (AAMVA), the former chair of the AAMVA International Law Enforcement Committee and currently serves on the AAMVA International Board of Directors as the Law Enforcement Advisor and as a Region IV Member at Large.
He is a member of the International Association of Chiefs of Police Highway Safety and Vehicle Theft Committees and also is a past board member (Commissioner Officer Representative) of the Association of Colorado State Patrol Professionals, past president of the Four States Peace Officers Association and past president of the Western Colorado Peace Officers Association.
Chief Trostel began his career with the Colorado State Patrol in 1979, serving as a Patrolman in Broomfield. He achieved the rank of Sergeant in 1983 and was stationed in Montrose. From there, he was promoted in 1988 to the rank of captain, becoming the troop commander in Craig. Soon after, he promoted in 1990 to the rank of Major, District Commander in Durango. In 1998, he was promoted to the rank of lieutenant colonel, commander of Region 1 and assigned to Denver HQ. On June 5, 2003, he was appointed chief (Colonel) of the Colorado State Patrol. On February 28, 2009, he retired from the Colorado State Patrol.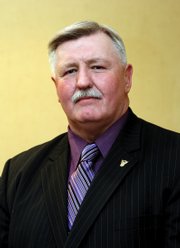 A father and son - bonded by blood, public service and a proud family name firmly entrenched in Northwest Colorado - traveled across the Western landscape Friday, trading stories and memories on their way back home to Los Angeles.
Glen Sherman, 80, and his son, John Sherman, 47, didn't let something small, like a combined 24 hours in the car, stand in their way of enjoying the road trip.
"I'm letting Dad tell me about Colorado and our family," said John, at the wheel Friday morning while the Shermans were making their way across Utah. "We're kind of taking trips down memory lane."
A day before, the two were in Grand Junction, participating in a ceremony honoring Glen Sherman, a Craig native and former Craig Police Chief.
On Thursday, during its annual banquet, the Western Colorado Peace Officers Association announced it had created a Lifetime Law Enforcement Achievement Award and named it after Glen.
The renaming was in "recognition of his career and post-career dedication to law enforcement and community service."
"In a time when role models are scarce, Glen P. Sherman, (or) 'Chief,' has shown that character, honor, compassion, service to others and an unwavering dedication to law enforcement exhibit the true symbol of a professional," the Peace Officers Association said in a news release.
"He has supported the organization as chief of Craig and continues to do so, not only by his attendance, but in other ways that he probably would prefer that we not mention. That is the quiet, humble nature of Glen Sherman."
Glen, who spent 26 years with the Los Angeles Police Department before returning home to Craig in 1980, said he was proud the organization honored him in such a way.
"It was tremendous," he said Friday morning. "I was so, so tickled about it. : I told them last night that people usually don't name anything after you until you're passed away. It was really great to me that they named me before I was gone so I can cherish and appreciate this thing the rest of my life. And I will."
The Peace Officers Association gave the newly named award to Mark V. Trostel, a retired Colorado State Patrol chief, who has his own local tie to the community. Trostel was a former troop commander in Craig.
John, whose career arc closely resembles Glen's, said he was grateful that he could be at his father's side Thursday. John is a 24-year LAPD veteran and a department captain.
He said he was there on behalf of Glen's five children: himself, and sisters Deanna Gannon, Dorene Melton, Alison Harris and Melanie Shannon.
"I'm kind of representing all of us," he said. "It was real nice to be there for him. He was very emotional last night. This was a huge honor. It was nice to be there to support him.
"We saw his name on this plaque - the Glen Sherman Lifetime Achievement Award. That's quite an honor to have your name recognized. It says a lot about my father."
Glen was born Nov. 24, 1928, in Alamosa, the middle of three children to John J. and Fern Sherman - a couple, it has been well-documented, that made various contributions to the Moffat County community.
He was raised in Craig and graduated in 1947 from Craig High School.
In 1950, during the Korean conflict, he joined the U.S. Marine Corps.
"I was going to be drafted and I didn't want to go into the Army, so I joined the Marine Corps for the duration of the emergency," he said. "My dad was in the Marines in World War I and my son, John, was also in."
He never saw combat while in the service. The closest thing he would get to a war zone was working in the LAPD during the Watts Riots, a violent, five-day riot in the Watts neighborhood of Los Angeles.
Glen joined the LAPD in 1954.
By the time Watts erupted in August 1965, he was working curfew patrol, attempting to keep people off the streets.
"Well, I'd never been in combat or a war," Glen recalled, almost 44 years later, "but a few days after it started, the National Guard was called in, and we were never so tickled to see combat troops as we were when they got there."
Glen spent 16 of his 26 years in the LAPD as a detective. He investigated numerous homicides, supervised homicide investigations and logged time in several different districts.
In 1980, he eyed a move home.
In April of that year, he learned he'd been hired as Craig Police Department chief. He held that position for the next 14 years, supervising anywhere from 18 to 24 officers at a time, and implementing big city policing techniques to a small town.
It wasn't always easy, he said.
Early on, Glen said he made the decision to crack down on drinking and driving. Some in the community weren't enthused about the practice and lobbied to get him fired, he said.
"It made the bar owners unhappy," Glen said.
But, the increased enforcement worked.
"In 1979, there had been several people killed in alcohol-related accidents, so we really stepped up DUI enforcement, and the death rate went way down," he said.
The police chief stayed.
He also implemented a new policy for domestic violence calls. Glen made it mandatory that a suspect be arrested if there was proof he or she was guilty of physical violence, a precursor to laws in numerous states today.
And the list goes on for new policies, procedures and programs the chief ushered in: detectives were required to wear business attire; formal inspections were implemented; there was undercover enforcement in the bars and at the high school; the Substance Abuse Prevention Program was established, as was a DARE program.
John, himself no stranger to policing, is impressed with his father's law enforcement career.
"It's my understanding the Craig PD was kind of in a state of disarray : before my dad took over," he said. "He came in 1980 and brought a whole new professionalism to that department, a professionalism they had never seen before.
"He absolutely won over the community as a whole. : Which is why he was never fired."
Glen's influence on local law enforcement could be witnessed Thursday: a representative each from the Moffat County Sheriff's Office and Craig Police Department attended the Peace Officers Association banquet, specifically to honor Glen.
"He gave me my start in law enforcement," Moffat County undersheriff Charlene Abdella said. "I've always respected him for that and appreciated him for that."
Glen hired Abdella in 1989 as a Police Department dispatcher. A year later, he hired her as a police officer.
Sgt. John Forgay, of the Police Department, also attended the banquet. He was not available for comment Friday.
Glen retired from Craig in 1994.
He moved back to California but still keeps his hometown close to his heart. He funds an annual $1,000 scholarship to the SAPP program, and has made donations to the John J. Sherman Youth Camp, which is named after his father, and located near Freeman Reservoir.
Today, he lives a quiet life in Santa Clarita, north of Los Angeles. Three of his five children live within walking distance.
Since retirement, he has busied himself with traveling. All told, he's stepped foot on six different continents and 57 countries. Later this month, he's taking a cruise to Central America.
On the heels of Thursday's honoring, Glen looked back on his law enforcement career.
He remained humble.
"I want to compliment the Western Colorado Peace Officers Association for all they do for the betterment of law enforcement on the Western Slope," he said.