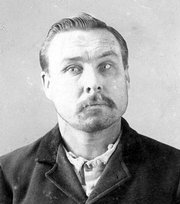 The stories of Craig and Moffat County's history written for this series in 2009 are made possible through a generous grant from the Kenneth Kendall King Foundation to the Museum of Northwest Colorado.
In June 1930, the Craig Empire-Courier and the Vernal Express reported the contents of a homesteader's will.
The will was simple. It made the writer's feeling clear, but the story behind it was anything but simple.
William T. Jones was better known as "Red Wash" Jones because of where he homesteaded in Moffat County. He was a colorful individual with a varied past.
He left most of his estate - his homestead and possessions - to his two sisters Dora and Zelia, both of whom lived in Texas near the place where he was born on May 30, 1857, in Bastrop County.
Their mother died when William was 15 years old, and he headed out on his own, taking a position on a sailing ship, Witch of the Waves. The ship ran into a hurricane before it was at sea a week. The Witch went to the bottom, and Jones was nearly drowned before shipmates pulled him onto a raft. The survivors spent six days bobbing on the raft before they were picked up by a steamer.
Jones had enough of the ocean and when asked where he wanted to go, he told the skipper that he wanted to go ashore on the first piece of dry land they came to.
He was put ashore in Mexico with no money, the clothes on his back and no knowledge of the Spanish language. An American woman took him in and helped him to get a job with a cattle ranch.
He left Mexico after a few years and ended up in Kansas where he married his wife, Lucy. The couple farmed and had two daughters, Arie and Jessie. Lucy's health was poor, and they began to consider a vacation to help her.
They left their farm in the care of their hired men and headed west for Colorado, seeking the healing air of the mountains. Lucy's health improved during the trip, and the family traveled on to Wyoming where they made the decision to buy a ranch and stay in the Sheridan area.
His daughter, Arie, described life on the ranch years later in a letter to the governor of Wyoming.
"Papa worked very hard and was making our ranch one of the nicest in the country. Of course, Mama wasn't accustomed to work, and it was impossible to get girls to work for us all the time. When there wasn't a girl for us to get, Papa would do the greater part of the housework, rather than to have Mama try to do it. : I very well remember how he used to get up early in the morning, get breakfast for himself and the hired men, do up the morning housework, then go out and work hard all day, leaving Mama and we children sleeping. He would work extra hard and late so that he might take half a day's time from his work to stay in the house and wash and iron." (Letter to Governor DeForest Richards, copy provided by Wyoming State Archives, Division of Cultural Resources, Department of Commerce)
Jones' extra duties at home might have contributed to his problems later. In 1893, he was accused and tried for the murder of his neighbor, John D Adams. The trial was headline material with inflammatory details coming out throughout the trial. The men had argued several times before the murder, when Adams' body was found in an irrigation ditch.
The jury returned a verdict of guilty to second-degree murder, and Jones was sentenced to 25 years of hard labor in the Wyoming Penitentiary, then in Laramie. His family moved back to Kansas but kept in contact with him.
When he came up for parole, Arie began a letter-writing campaign seeking his early release and pardon. Her letters continued for years as she made numerous trips from Kansas back to Wyoming to talk to key people about the case. She even got some of the jurors to write letters urging the governor to release her father on the grounds that he had been a model prisoner and had served enough time for his crime.
Jones finally was released May 25, 1907, at the age of 50, and his citizenship was restored. He went home to Kansas and his family, but when the Homesteading Act was revised in 1916, they headed back to Colorado to make a new home. Jones didn't think that he was eligible for a claim because of his prison time, so his daughter, Jessie, claimed the homestead at the foot of Blue Mountain. As he had done before, Jones did all of the work to build the required improvements in the five years allowed.
Jessie fell in love with Newt Shelton and planned to marry him. Jones wasn't happy and told her so, but Jessie had her father's strong will. She told him that if he didn't like it, he could leave - the homestead was in her name.
He decided to leave, but his wife told him that if he did, he would do it alone. She had no desire to leave her home again. He moved to Willow Creek, around the edge of Blue Mountain and filed for a livestock homestead. Lucy filed for divorce in spring 1927.
After their separation, Jones bought a new car and asked two of his young neighbors Vic Karren and Clark Feltch to teach him to drive. He wasn't good at it, so he had them chauffeur him on a road trip to California. As they drove, he regaled them with tales of his early years when he fought Indians and slaughtered buffalo for their hides.
During his years in prison, he had learned the art of horsehair braiding, and he presented Karren with a braided, dyed horsehair quirt that has become a cherished family possession more than 100 years after it was made.
Jones' bachelor days were short-lived, but he went out the way he had live. He died May 27, 1930, of a heart attack that struck him in the middle of an argument with a neighbor.
There isn't much documentation about Arie Jones, but her father's will stated that "$200 be used for a monument to be suitably engraved and erected at the grave of my daughter, Arie A. Jones, at Langdon, Kansas." (Vernal Express, June 5, 1930)
He obviously was grateful for the energetic attempt she had made to secure his freedom from prison.
"I desire that my body be dressed in the clothes which shall be found in my trunk, placed in a plain coffin and then buried in a grave on top of the hill north of my ranch, without ceremonies." (Vernal Express, June 5, 1930). This request was fulfilled soon after his death.
And daughter Jessie? Jones left her a silver dollar, the last statement in a family dialog that went on for years.
Note: The Museum of Northwest Colorado recently has come into ownership of a second horsehair quirt made by Red Wash Jones and given to another neighbor, Edith Reeve. The quirt will be on display in the upcoming exhibit, "The Passing of the Old West," coming this summer.
Shannan Koucherik may be reached at honeyrockdogs@msn.com