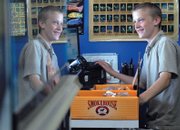 When Dena Wardlow, owner of Critters 'R Us, received a call April 3, that her father had died, her first reaction was to close the pet store for a week while she took care of family business.
But, with animals to be tended to, and a business to run, Elijah Dixon, 13, volunteered to watch over the shop and its animals while Wardlow was away.
Wardlow has had other people come in and help run the shop, but it's mainly been Dixon behind the counter.
For the young entrepreneur, who started Easy Yoke Poultry, the added responsibility has been rewarding.
"I'm doing really well," Dixon said Friday morning. "I've been taking care of the animals and cleaning up after them, feeding them, watching the cash register."
Lisa Dixon, Elijah's mother, said her son always has been helpful.
"Always," she said. "He's always willing to help anyone."
Elijah said he helps people whenever they need it.
"I like helping people, because they'll usually help me in return," he said. "I don't mind helping during a family emergency."
The increased responsibilities come in stride for Dixon.
"It's been teaching me all the ways to run a business," he said. "It's helped with my math skills, my business skills, helped me learn the value of money."
And the hardest part of being in charge?
"Cleaning all the cages," he said, laughing.
Dixon's passion is for the birds. He originally started working at the shop, selling chicks and ducklings and has been involved with 4-H for four years.
For spring, Dixon has dyed some of the chicks and ducklings various colors.
"What they sometimes do is stick a needle with dye in to the eggs, and that's wrong," he said. "I just took food coloring, the kind they put on candy, and sprayed them. It'll grow out when they get their adult feathers."
Dixon started selling chickens and ducks at Critters 'R Us more than a month ago.
"Originally, he wanted to set up outside," Wardlow said. "I told him it was too cold and to bring those babies inside."
Dixon said he started selling the birds at the store to make enough money to cover the cost of raising them.
Working in the pet store is the first step to achieving his goal of opening a hatchery.
"This is just a small step, I'm just starting," he said. "I've been able to interact with other people. And that's been really helpful. It's been a really good learning experience."
Normally, Dixon works three days a week selling chickens and ducks, but since Wardlow has been gone, his workload has doubled.
"I think he's been great," Wardlow said. "He's smart as a whip, and if he doesn't know something, he'll look it up."
Dixon said working behind the counter also has given him a chance to learn about the other animals in the shop.
As customers come in, he shows them around the store and recites facts about everything from Chinchillas to lizards.
But even with a newfound appreciation of the other pets, Dixon said he still prefers birds.
"I like birds - they're easy to take care of," he said. "I like watching them fly - or, I like watching chickens try to fly."