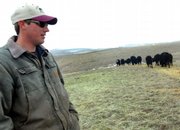 April 17 and April 18 will be big days for the town of Hayden.
The Seventh Annual Northwestern Colorado Bull Sale will take place April 18 at the Routt County Fairgrounds in Hayden. Seventy bulls and five heifers will be sold at live auction. All bulls are PAP, BVD, Tric and fertility tested. All heifers are assumed to be open.
Animals will be ready for viewing after 9 a.m., and lunch will be served from 11 a.m. to 1 p.m.
This is an opportunity for cattle producers to buy and sell top-quality bulls and heifers, and to bid on a rack of semen provided by Nobel Genetics.
One of the benefits of the auction is that cattle are acclimated to the topography and climate of the area. Another is that the sale is developing a quality reputation. Prices are competitive with other auctions.
The sale is one of the last of the season, which means buyers will not accrue additional feeding costs. Because the sale is local, many sellers and buyers do not incur travel and lodging expenses. In addition, producers support their neighbors and the local cattle industry.
The sale is developed by the Routt County CattleWomen, Community Agriculture Alliance, and CSU Routt County Extension, all local associations to assist local producers.
Co-sponsors - for radio ads - are Dancigar Tybar Angus Ranch, Farrow Repair Service, Mountain Valley Bank, Murdoch's Ranch & Home Supply, Steamboat Veterinary Hospital and Yampa Valley Feeds.
To receive a sale catalog, call Marsha Daughenbaugh (Community Agriculture Alliance) at 879-4370.
The First Bunk House Bull Session will be at 5 p.m. April 17, starting at the Routt County Fairgrounds Exhibit Hall in Hayden.
According to Jay Whaley, Routt County 4-H agent, the Bull Session is not a part of the North Western Colorado Bull Sale, but is an add-on to the sale.
This event is sponsored by the Routt County Friends of 4-H and the Fair, a new booster club. It's the club's first affair.
Attendees will be treated to a steak dinner with all the trimmings, all natural beef provided by River Ranches Beef of Steamboat Springs. Tickets are $30 for one individual and $25 for more than one.
Tickets for children are $10.
The night will be marked by entertainment provided by cowboy poets, storytellers, and musicians. Poets/entertainers include: Tom Munn, of Snowmass; Fred Ellis, of Meeker; Tim Nolting, of Bushnell, Neb.; Chuck Larsen, of Saratoga, Wyo., and John Fisher, of Steamboat Springs.
Western entertainer Susan Merrill, of Steamboat Springs, will be a Cowboy Clown for the event, entertaining children and adults.
A Kiddie Corral, sponsored by the 4-H Interstate Exchange, will be held just for children.
The event is being put on by donations and grants.
For example, a $500 grant from the Colorado Council of Arts will bring local artists to the evening event to display and sell their art.
A grant from the Legacy Education Foundation will be used to bring poet/entertainer Fred Ellis to make presentations to the local schools.
In addition, the Bunk House Bull Session will be a big night for some 4-H and/or FFA members. Whaley explained that 4-H and FFA members, ages 14 to college-age, have been challenged to write a song, poem or story of Western nature.
Each member is to submit an entry by April 10 to Whaley's office.
From these entries, a committee from the Friends of 4-H and the Fair will choose the top five. These members will perform their creations during intermissions during the night's program. The poets will rank the entries.
Whaley said that a $500 grant is guaranteed to the first-ranked 4-H or FFA member, and it's possible that another grant may be awarded besides that.
For ticket information, call Don Hayes at 276-4174.
Tickets are available at Mountain Valley Banks, Routt County Extension, Elk River Farm and Seed (Steamboat Springs), Yampa Valley Feed Store (Hayden) and Flat Top Ranch Supply (Phippsburg).
Mountain Valley Bank and Coyote Creek Ranch are sponsors of The Bunk House Bull Session.
April 18 also marks the Grand Re-Opening of Yampa Valley Feeds in Hayden. It will be a busy two days in Hayden.