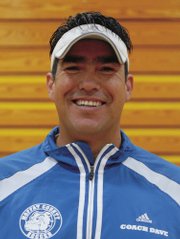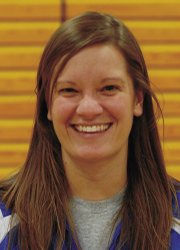 MCHS makes coaching change
Dave Rodriguez, Moffat County High School's first-year girls soccer coach, has been replaced.
MCHS athletic director Matt Ray said Rodriguez was asked to resign Monday, and he complied with that request. Assistant coach Nicole Dolence has taken over, he added.
Rodriguez could not be reached for comment Thursday.
Ray said he would not comment on the coaching change, declining to speak about whether the decision was based on the team's performance, the coach's style or something else.
The soccer team, which won one game in 2008, hasn't gotten off to a good start this year. The team is 0-7-1, with all of its games being played on the road.
They lost Tuesday, 3-0, to Rifle, and dropped a game, 5-0, on Thursday to Battle Mountain.
Rodriguez, a former U-14 city league coach, was named girls coach in August 2008, replacing Alegra Yager, who resigned.
Dolence, a family support counselor at MCHS, was named assistant coach in January. She graduated from St. Cloud State University in Minnesota with a degree in community psychology and a minor in coaching.
In February, she spoke to the Daily Press about her ideas on coaching.
"My philosophy is to make sure the girls are always having fun and that they can build individual success as well as success as a team," she told the newspaper.
"Girls can learn a lot from being on a team. Life skills, teamwork, hard work, how to be motivated and how to motivate yourself. That's what I hope to bring and help them work on those skills."
Ray said Dolence's selection as head coach keeps continuity in the program.
"She has already been with the girls," the athletic director said. "She knows the girls."
As of now, her title is interim coach, Ray said. A decision will be made after the season on whether she'll be named head coach.
MCHS is scheduled to play next at home April 16 against Palisade.
- Joshua Roberts
Battle Mountain soccer was going to play Thursday.
Huskies coach David Cope had joked that if Battle Mountain was snowed out Thursday against Moffat County, he was going to have his team play a soccer doubleheader in Craig on April 20.
Ernie Banks was not needed as the Huskies got in a 5-0 win against the visiting Bulldogs at Freedom Park in Edwards just before the white stuff started flying again.
"The last couple weeks has been strange for anybody playing any sport," Cope said. "People are piecing it together in the gyms. We've been on the bike path over here. We've played on snow. For us to get out on a field and have room and spread the ball around, it was great. It probably felt luxurious."
Battle Mountain's Josie Tuthill and Haille Hogfeldt felt comfortable, each scoring a pair while teammate Kayla Telles had a tally of her own.
Huskies midfielder Lizzie Seibert had a frustrating day as far as goal-scoring, but she seemed to be in on the action everywhere, recording three assists.
The first came on a nice ball down to Tuthill on the right side.
Tuthill shot with her left boot from the right side through goalie Imelda Hernandez for the score.
Seibert dribbled through the Moffat box and did everything but score. However, her shot went straight to Hogfeldt, who put it home.
The Huskies started the second half with Seibert to Kayla Telles as the Huskies came from all parts of the pitch.
Hogfeldt got her second on a penalty kick, and then Tuthill got the goal about which the Huskies will be talking. She crushed her shot.
Second-half MCHS keeper Anastasia Todd did everything she could to get in front of it.
Tuthill just got all of it.
Although the Bulldogs are still looking for their first win, they have logged a tie at Eagle Valley.
Moffat coach Nicole Dolence was pleased with her team's spirit.
"I think our girls played really hard," Dolence said. "We're trying out different things on offense and defense. They played really hard. They had fun. To me, that's the most important thing."