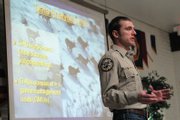 Critics of the Colorado Division of Wildlife throughout the past few years mostly have claimed there are too many elk, deer and antelope in Moffat County.
That was not the case at the agency's public meeting to discuss herd populations Monday night at American Legion Post 62 in Craig, hosted by the Craig Chamber of Commerce.
A crowd of about 40 residents filled the folding chairs and tables set up for the DOW event.
Instead of questions about how the agency could shrink local herds, residents asked officials how they could make sure future hunting seasons were more successful than last fall.
Charles Dial, 70, who owns Axis Steel and Axis Leather, a hide-tanning business, wondered if every year from now on would have similarly disappointing success rates.
"I had about half as many hides come into my shop this year than I did in 2005," he said. "I'd like to have more than that."
Jamin Grigg, DOW terrestrial biologist for the Craig office, presented a graph that showed a direct relationship between animal populations and the number of successful hunts.
As the Bears Ears elk herd population declined, which DOW officials said it has since 2001, so did the number of hunters who filled their tags.
"I think we're all in agreement we had too many elk at that point in time in 2000 and 2001," Grigg said. "Since then, we have started a concerted effort to bring that population down."
The DOW data showed the population declined from about 35,000 in 2001 to 21,000 in 2007, with a rough estimate of about 18,000 for 2009.
With fewer animals, they're going to be harder to find, Grigg said.
Hunters killed an estimated 5,111 elk in 2007, compared to an estimated 4,248 in 2008.
"We're not going to be able to continue to sustain the bull and cow harvests we have in the past," he said.
A Colorado State University official conducted a habitat study within the past three years and estimated the winter carrying capacity for wildlife in Moffat County is about 16,000 antelope, 38,500 deer and 16,500 elk.
Bill de Vergie, DOW area wildlife manager, said his agency is set to continue managing local herd populations to be at those levels.
Once the population starts to approach those points, the DOW would cut back on cow licenses, then eliminate early and late hunts and then cut licenses across the board, de Vergie said.
He didn't want local businesses to worry, though.
"Just because we would have less licenses out there, it doesn't mean we're going to have less hunters," de Vergie said. "Many of those licenses we would cut would be second licenses for people. We know how many (tourists) eat in restaurants, stay in hotels and go out with outfitters around here."
Although the meeting passed without any angry words, the presentation didn't solve all issues between the DOW and residents.
Dial said after the meeting he still didn't trust the agency's reported figures on hunter success rates, though officials said they were significantly lower than the year before.
"I don't think their numbers means too much," he said. "I think they're high. I think they're probably cooked."
Collin Smith can be reached at 875-1794 or cesmith@craigdailypress.com.