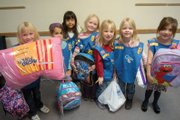 Eight kindergarten-aged girls walked into the Moffat County Department of Social Services on Thursday with an assortment of bags almost as big as they were.
The bags contained everything from toys to toothpaste, and they were gifts from Daisy Troop 3557 - a Girl Scout troop - to area foster children.
"When we sell cookies, part of what we try and teach the girls is to help other people and work within the community," troop leader Cheryl Chase said.
So, as part of their community service project, each girl was tasked with using $40, which they earned through cookie sales, to buy things for children less fortunate.
"It all started when one day we were all talking about how unique we all are," Chase said.
Chase adopted her daughter, Chantel, a fact which came up in the Daisies' conversation about what they should do for a community service project.
With that in mind, the group decided to purchase items for foster children.
Each Daisy was given an age and gender to buy for.
When out buying the gifts they would donate, the Daisies were told to keep something in mind: what they would like to take with them, if they had to live in a new place.
Chantel was told she was buying for an infant girl, so she bought a rattle.
She also bought a toothbrush and toothpaste and many other items.
She placed them all in a backpack decorated with flowers.
Each girl bought things ranging from fun to practical.
Six-year-old Kayla Keith placed each of her presents, including a pillow, Barbie, book, a little pig and pajamas, into a Barbie backpack.
Troop members handed their gifts to RaeAnne Durham, a social caseworker with Social Services.
Marie Peer, Moffat County Social Services director, said the organization serves foster children from birth to age 18. There currently are between 18 and 22 foster children in Moffat County.
The packs the girls created will be used for incoming foster care children in Moffat County.
Peer said donated gifts to Social Services are very unique.
"They are certainly a special bunch of young ladies," Peer said. "I can't wait until they grow up to see what type of leadership they provide."
More than the community service, the Daisys learned about math, because they weren't allowed to go over their allotted dollar amount, Chase said.
Chase also said they learned to appreciate what their own families have and the things they have that a foster child might not.
"I can remember being in (Girl Scouts) and doing stuff like this, and it's now many years later," Chase said.
"And I want them to remember that they did good, and what they did does make a difference in how they feel about themselves and their community and just as a person. Not everybody is kind, and it really makes my heart feel good that these girls have grasped the concept of helping other people at such a young age."