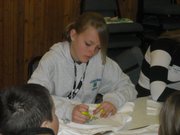 The 16th Annual 4-H District Retreat for Districts 11 and 12 took place late last month at YMCA of the Rockies, Snow Mountain Ranch, near Granby.
About 185 4-H members from Moffat, Grand, Jackson, Routt, Rio Blanco, Garfield and Eagle counties attended. Twenty-seven members were from Moffat County.
"Basically, we took up the whole lodge," Moffat County 4-H agent Alisa Comstock said.
The only requirement for attending was that 4-H members had to be 10 to 18 years old. The participants paid their own way. Meals were served buffet-style in the lodge'
Moffat County 4-H members left March 27 after school and the group returned March 29, incredibly before the blizzard. Comstock said that the roads were completely dry both ways.
"Winter Wonderland" was the theme for the retreat. The main meeting room was decorated with snowflakes.
On March 27, the candidates for district offices gave their speeches. Afterward, the employees of Snow Mountain Ranch did activities with the participants, such as singing and making s'mores.
The next day, each participant chose four workshop sessions from a list of eight to attend throughout the day. They rotated from one session to another.
First, however, each 4-H member took part in "Decorate Your District Retreat Duds." Each member got a T-shirt and decorated it by using a variety of media, including crayons, markers, puff paints, stamps, glitter and gel pens.
The workshops were enticing, indeed. For example, Karen Massey, Routt County Family and Consumer Science and 4-H Agent, offered a "Negotiation Game."
During the session, 4-H members divided into teams and, through simulation, learned how people work together, how to negotiate with others, and how to give and take.
"It was very interesting, and the kids learned a lot about working in groups and negotiating for what they want," Massey said.
"Go Geospatial" was the session worked up by Jay Whaley, Routt County 4-H Agent. The goal was for kids to rescue Einstein, the SET (science, engineering, and technology) bear. To do this, they used GPS units.
Whaley explained that he wrote a story about Einstein, explaining how the bear had gotten lost. Then, Whaley put Einstein in a box (so he wouldn't get wet) and hid him outside. Whaley even put a little red food coloring blood on Einstein's head injury.
According to the story, Einstein had found some cell phone service, so the 4-H Search and Rescue Team had latitude and longitudinal coordinates to work with. All of the youths had maps and two-way radios to use.
Comstock conducted a workshop on "Duct Tape Art," where kids used differently-colored duct tape to make things. Especially popular were bags, but participants also made glasses, belts, bags, skirts, shorts, wallets, horses, flowers and more. The items were made almost entirely from duct tape.
Grand County's Extension Agent Brenda Kwang led kids in a "4-H Engineering Adventure." The goal of this workshop was to make a boat, using fun noodles, storage tubs (with lids), tape and little "floaties."
The boats, each carrying a person, then were floated in the pool.
Extension agents Jenny Wood, of Eagle County, and Dessa Watson, of Rio Blanco County, were in charge of "Sledding, Tubing, and Ice Skating." Comstock reported that this activity was "huge."
The ice skating area was near the sledding area, so 4-H members participating in this activity could do both.
Bill Ekstrom, Rio Blanco County Agent, taught "Meat Quality Assurance" and "Livestock Record Books." These were attended by member choice.
And there still was more.
Later, members swam in the pool or went to the Kiva Center, where they could roller skate or play games such as basketball and table tennis.
On March 28, after dinner, 4-H members elected officers and listened to a keynote address by Dr. Jeff Goodwin, Colorado 4-H director. Afterward, they attended an ice cream social and dance or participated in the "Duct Tape" workshop or had fun at the Kiva Center or pool.
On March 29, after breakfast, the retreat closed with a slide show of the weekend's activities. Then tired members slept all the way home.
"It was fun, new and exciting," Comstock said. In the past the retreats have been held in Craig.
Newly-elected district officers from the Moffat, Routt, and Rio Blanco areas are: (for District 11) Morgan Nielson, president (Rio Blanco); Karissa Maneotis, vice-president (Moffat); Bryanne Runnion, secretary/treasurer (Moffat); and Nate Moon, reporter/historian (Moffat).
For District 12, officers are: Josie Rossi, vice-president; Anna Brown, secretary/treasurer, and Abbey Horn, reporter/historian, all from Routt County.