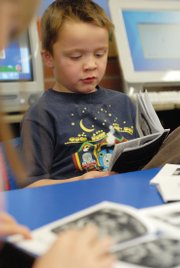 A full-day kindergarten proposal is drawing support from Moffat County School District principals and administrators.
"The administration feels this is the right direction to go," said Mark Rydberg, School District finance administrator. "That's been made abundantly clear from the response from the community."
During the Moffat County School Board's March meeting, School District superintendent Pete Bergmann presented a plan to move forward with full-day kindergarten.
The board unanimously agreed to move to the next step, which is finding available funds for the project.
Rydberg said funding could come from several sources.
"Funding is undetermined, but we're leaving all options on the table," Rydberg said. "We might receive some extra money from the stimulus package, but we aren't sure how much or how we can use the money."
Currently, the School District offers half-day kindergarten.
Fifty percent of students in Steamboat Springs and almost all students in Hayden attend full-day kindergarten, Rydberg said.
Zach Allen, Sunset Elementary School principal, said if the full-day kindergarten proposal is approved, it would have to be the only option.
Allen said district parents would not be able to choose between sending their children to full-day or half-day programs.
"Whether there's a choice between full-day and half-day, tuition is tied together with that choice," Allen said. "That's up to the School Board to consider."
Having some students in half-day and some students in full-day would create learning gaps, Allen said.
"Studies have shown students in full-day kindergarten outperform their peers in half-day kindergarten," he said. "We want everyone entering the first grade at the same level."
Diana Cook, East Elementary School principal, has experience with both full- and half-day kindergarten. She said she was pleased the district was moving closer to full-day kindergarten.
"I have been so pleased with the support from the School Board," Cook said. "Looking at the research, I do believe full-day kindergarten is the best early intervention program for our little ones."
She said having students in class for the extra time improves more than academic skills.
"Just as important is the social development of the children," Cook said. "Students in the half-day program might be losing that social piece, because sometimes it's just 'rush, rush, rush.'"
Cook, who once taught kindergarten, said the extra time allows teachers time to bond with their students.
"What I know from teaching both half-day and full-day kindergarten is students in the full-day program get much more depth," she said. "They aren't constantly being rushed from one thing to another."
Extra time also gives students more time to explore subjects thoroughly, Allen said.
"It's about depth, not breadth," he said.
A move would increase students' time in the classroom, Allen said, not the expectations.
"Kindergarten is their first exposure to school, and most of these students aren't ready for a paper-and-pencil, sit-down kind of curriculum," he said. "At the same time, we don't want to just add on another half-day schedule to their day.
"It all starts in kindergarten. If we can expand that, we will be setting our students up for future success."
Cook said parents who want half-day kindergarten might be losing an opportunity for extra growth for their children.
"I understand the concerns of parents who want to see their children in a half-day program," she said. "At the same time, children who don't attend full-day kindergarten are missing half of the depth."
Fitting the increased number of students into the elementary school schedule could be a potential problem for the schools, Allen said.
"For full-day kindergarten to work, we need to have our schedule set," he said. "We need to be able to schedule music and physical education for the extra session."
For Cook, the scheduling is a challenge, not a problem.
"I have already written out two or three different draft schedules - I love working with schedules," she said.
The School District could look at other full-day kindergarten programs, Allen said.
"It's not easy sifting through all the different full-day programs," Allen said. "There's been talk of visiting other programs to see if there are any pitfalls we can avoid."