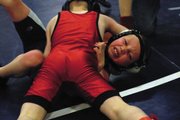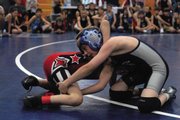 Bad Dogs Invitational
Bad Dogs top finishes:
Name Record Pins Place
Cody Baker 3-0 3 1
Thomas Baker 3-0 3 1
Cutter Barnes 1-2 1 3
Mikey Bingham 7-0 7 1
1st in 10-and-under and 12-and-under
Jesus Duarte 5-1 4 2
Ashlee Griffiths 3-0 1 1
Sebastian Hadley 1-2 1 4
Shandon Hadley 2-0 2 1
Kaden Hafey 2-2 2 3
Koleton Hafey 3-0 3 1
Logan Hafey 2-1 1 2
Ethan Hafey 2-1 2 3
Colton Hall 2-1 1 2
Isiaih Herod 1-2 1 3
Issik Herod 0-3 0 4
Ivin Herod 2-2 2 4
Gregory Hixson 3-0 2 1
Mikinzie Klimper 3-1 2 2
Christopher Moschetti 1-2 0 3
Matthew Moschetti 8-1 5
3 in 10&U, 1 in 12&U
Deven Mosman 9-0 6
two first-place finishes
Devlyn Mosman 6-2 2
1 in 10&U and 3 in 12&U
Elias Peroulis 3-0 2 1
John Peroulis 1-3 1 4
Stelios Peroulis 3-1 2 3
Dezzee Pfister 2-0 2 1
Quincy Pfister 7-1 5
first in 10&U and second in 12&U;
Luke Pleasant 2-1 2 2
Ethan Powers 3-0 2 1
Benji Robinson 2-1 2 2
Trent Vernon 2-1 2 2
The Bad Dog youth wrestling team set out to defend its house and its mat Saturday. According to coach Rodney Klimper, the team did just that at its only home tournament of the season.
"We had a lot of first and (second) finishes," he said. "We had kids wrestle up an age group, and they did real well. I was impressed at how hard they took it to the mat."
A majority of the Bad Dogs are younger than 10 years old but they wrestled in the 12-and-under brackets in addition to their 10-and-under competition. The Bad Dogs earned a combined 24 first- and second-place finishes.
With the double bracket entries, some of the wrestlers had as many as nine matches for the weekend.
"That's a lot more than most weekends," Klimper said. The tournament "was good to get experience on the mat."
Coming off a national tournament in Denver the previous weekend, the Bad Dogs faced more familiar opponents from the Western Slope, Wyoming and Utah. The Craig Pee Wees joined in, and there were about 80 wrestlers from Craig competing in the 300-wrestler field.
"The numbers across the state seem to be down, but that isn't the case in Craig," Klimper said.
"This was the only tournament for the Pee Wees, and some of them did well, also."
A unique aspect of the meet was that wrestlers were asked to stay around the mats throughout the day.
Klimper said that idea was implemented because, too often, youth wrestlers disappear throughout the day and miss their matches.
"We encouraged the idea of having kids watch wrestling most of the day," he said. "It worked pretty well."
The Bad Dogs travel to Rangely on Saturday for their next Northwest League tournament.