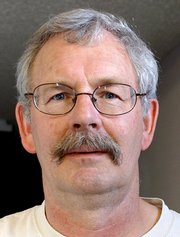 Below is a question and answer segment with Craig Mayor Don Jones, who is running unopposed for his third term in Tuesday's municipal election.
Although Jones has no competition for his seat, he agreed to answer the same questions as City Council candidates have this week in preparation for Tuesday.
In his answers, Jones said he will be committed to listening to residents during the next two years and will be open to changing city policies when there is a need. He also thinks the city should take a proactive approach to its economy and attempt to diversify local industry.
The election will take place from 7 a.m. to 7 p.m. Tuesday in Centennial Mall, 1111 W. Victory Way.
There are six candidates vying for four City Council seats: incumbents Terry Carwile, Byron Willems and Gene Bilodeau, who was appointed to fill a vacancy; and hopefuls Joe Bird, Francisco Reina and Jennifer Riley.
Three of the available Council seats carry four-year terms, while the fourth is for two years. The top four vote getters will all claim a seat, with the fourth taking the two-year term.
Jones stands to accept his third consecutive term as mayor, which is a two-year position. He will be ineligible to run for mayor in the 2011 election but could run again after that.
Don Jones
Age: 56
Occupation: Co-owner of Craig Steel, and celebrating our 30th year in business.
Time lived in Craig: 51 years
Public service history: I first served on the Craig City Council starting in 1995. After serving on the council for 10 years - from 1985 to 2005 - I was fortunate enough to be elected mayor in 2005. I have served as mayor since 2005. In addition, I am currently a member of the Craig Planning and Zoning Commission, Yampa Valley River Basin Partnership, the Yampa/White/Green River Waterbasin Roundtable committee, on the Craig Chamber of Commerce board and a member of the Yampa Valley Golf Course Men's Club.
Q. Why are you running for municipal office?
A. Serving as a public official allows you to give back to the community. I have lived in Craig virtually my entire life. I was raised here, raised my family here and now have grandchildren growing up in our community. I want to do all that I can to make Craig the best place to live. Selfishly, I am running because I want to continue working with the city staff. I believe this staff is the best staff in the state. Bottom line, I firmly believe that Craig is the best place in the country to live and raise a family. I want to continue to be an active participant in this community.
Q. What is the single biggest issue Craig faces today, or will face in the next four years?
A. The immediate issues of possible reductions in sales tax revenue and how that impacts the services our city provides to its citizens. Thanks to the hard work of our city staff, we are positioned to weather the current economic storm. However, as tough economic times continue, it will be imperative that the city maintain a balance of living within our means while not sacrificing the future development of our community. It is also important for the citizens of Craig to maintain a positive outlook. Our city has many exciting projects, such as the new hospital, new school and new theater. While we cannot ignore the state of the economy, we need to embrace and celebrate the positives in our community. Over the next four years, I think Craig also needs to focus on building an economic model that can sustain the volatility of the energy market. Ideally, our community needs an economic model that is well balanced and can withstand adverse changes in particular industry segments.
Q. Do you believe the city needs to change or alter any of its operations or policies? Why or why not?
A. If you don't change, you don't survive. As an operating entity providing services to our citizens, the city is always evaluating its policies and procedures for ways to improve and become more efficient. In terms of the city and community, change also is a vital component of survival. The term "change" can be broadly interpreted to mean many things. Change in our community can only be effective if it is a grassroots movement, meaning concerned citizens see a need for a change. As the city looks to change, it is imperative that the source of change is the community and not special interest groups attempting to broadly represent the interests of the community. As this community looks toward change, it must be prepared to complete the due diligence necessary to effectively evaluate the impact of change. Change in city operations and policies cannot be made without public input.
Q. What is your view about how local government should operate?
A. The mantra of a democratic government is "for the people, by the people and through the people." The City Council and mayor are elected by the people. Our job is to work in the best interest of the people. I believe our duty is to make sure the city is providing the best services to our citizens, plan for future growth and maintain fiscal responsibility. Most importantly, as Craig's local government, our job is to listen and hear the concerns of our citizens and determine action that best serves our community as a whole.
Q. If you could say one thing to every local voter concerning your campaign, what would it be?
A. Get out and vote! The results of this election will guide our city for the next couple of years. Cast your ballot for the candidate that best represents your ideals for our community. Since I am running unopposed, I ask for your support and guidance during the next two years. I am your elected official, I look forward to your opinions and perspectives regarding our community and the role the city of Craig plays in this community. I would also like to thank the citizens of Craig for the support they have shown me since I was first elected in 1995. It has been my honor to serve the citizens of Craig.