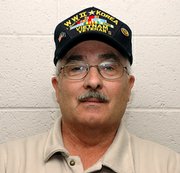 Moffat County has hired Ed Wilkinson as the new Veterans Service Officer in Craig. Ed will replace me the first of June. In the meantime, Ed will be working one to two hours a day two days a week to get on-the-job training.
Ed served in the U.S. Army from October 1958 to September 1964 and then served in the Army National Guard from February 1985 to April 2000 as a Master Sergeant with the 143rd Signal Company.
Ed has been very active in the Moffat County Sheriff's Office Posse and Search & Rescue team. He also is a reserve deputy. Ed is looking forward to serving the local veteran community and their families.
Historical dates to remember:
• April 4, 1948 - NATO was founded
• April 5 - Palm Sunday
• April 6 - U.S. entered World War I (1917), Army Day
• April 9 - National Former POW/MIA Recognition Day
• April 10 - Good Friday
• April 11, 1991 - Official cease fire of the Persian Gulf War
• April 12 - Easter, first U.S. space shuttle launched (1981)
• April 14 - Pan American Day
• April 15 - Tax Day
• April 24 - Arbor Day
• April 25, 1898 - Spanish American War began
• April 30, 1975 - Saigon falls, Vietnam War ended
GI bill information
Here is some information if you are a recently separated, honorably discharged veteran and are thinking about using your GI Bill benefits.
There is one constant - you have to use the benefits, no matter which GI Bill package you qualify for, within 10 years of your discharge date. There are very few, if any, exceptions to this. If you plan on getting an education at a university, community college or vocational trade school, as Larry the Cable Guy says "GIT-R-DONE!" For the complete scoop, visit www.gibill.va.gov, the official VA Education Web site.
Thank you, Craig
American Legion Post 62 wishes to thank all the local residents who supported the latest raffle. Without community support, the Legion would not be able to continue operations that provide services to seniors and other community groups. The winner of the AR-15 was Dave Corey of Corey Electric. Congratulations, Dave.
Actress' death draws attention to soldiers' brain injuries
The March 21 edition of the Orlando Sentinel reports: "Movie buffs were stunned by the sudden and tragic death of Natasha Richardson. : Richardson died Wednesday.
"Her untimely passing, as often is the case, shines a celebrity spotlight on an issue rarely given center stage: the devastating nature of closed-head trauma. Tragic as her death was, it's a sad testament that Richardson's story already may have generated more buzz about traumatic brain injury, or TBI, than the abundant reports of brain-injured U.S. troops.
"If a tumble on the bunny slopes can turn deadly, what of service members in Iraq and Afghanistan whose brains regularly are rattled by the rumble of mortars and makeshift bombs? In concert with March's designation as Brain Injury Awareness Month, Pentagon officials conceded about 360,000 Iraq and Afghanistan war vets may have suffered brain injuries.
"And as many as 90,000 of those may be plagued with lingering symptoms that demand specialized care. : The VA has sunk millions into TBI research, in- and outpatient treatment linked to its polytrauma centers, and boosted benefits. Indeed, the VA has been ramping up for the potential flood of brain-injured vets set to march home en masse from Iraq by 2011."
Construction Of New Denver Veterans Hospital Will Get Underway Soon
The March 22 edition of The Denver Post, in an editorial, wrote, "After 58 years at their Ninth Avenue site, construction on a long-awaited VA facility in Aurora will thankfully begin in June.
"For years, a promised regional veterans hospital has ridden a bureaucratic roller coaster. It was a go, then it wasn't. It was a stand-alone facility, then it wasn't. All the while, the Denver VA hospital grew older and more decrepit.
"Last week, veterans got the news they had been waiting for. Veterans Affairs Secretary Eric Shinseki announced construction for a stand-alone, 200-bed hospital in Aurora would begin in 90 days. It's about time. Colorado veterans have long had to endure an outdated and overcrowded VA hospital at East Ninth Avenue and Clermont Street in central Denver. They deserve better."
The March 22 edition of The Greeley Tribune reported, "Ray Dodd is among the rapidly growing number of veterans entering the health system after being injured on duty. The American Legion in Greeley hosted a short congressional ceremony Saturday to honor veterans like Dodd and to celebrate the announcement of a new Veterans hospital in Denver. 'I didn't think we were going to get it. So it was a pleasant surprise, very much overdue,' said Denny Williams, post commander of American Legion Post 18 in Greeley.
"Ray Dodd, an Iraq veteran from Loveland, is one of many veterans who have to travel a long way for care. : At the ceremony, Rep. Betsy Markey, D-Colo., who was one of the many supporters of the hospital project, thanked Ray and presented him with the pen Eric Shinseki, Veterans Affairs secretary, used to sign the approval of the project. 'It means a lot. It's a good thing they're doing,' Ray said.