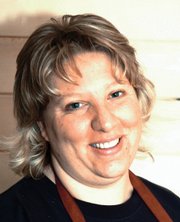 When Katrina Springer was looking for summer employment in 2006, a friend working at Serendipity Coffee Shop suggested she take a position there in addition to her role as a substitute teacher.
Springer accepted the job, and six months later, she was the owner.
"The previous owner didn't do a whole lot with the shop, except maintain it," she said. "When it was for sale, I decided it was a good fit."
Now, 2 1/2 years later, Springer, 31, is ready to move on.
The coffee shop is close to changing ownership, and Springer will return to substitute teaching.
"When I took over as owner in 2006, I knew this place had a lot of potential," she said. "My original intent was to build it up to the point where I could sell it. Now, it's a turn-key business."
Springer said paperwork almost was finalized with a new owner. The coffee shop still will be called Serendipity when it reopens.
"They will keep it mostly the same, as it is now," she said. "But I think they are going to make minor changes as they go along."
Springer came to Craig from Meeker and has been living here for 11 years with her husband, Shawn, and two children Brady, 11, and Kaylee, 9.
When Springer took ownership of Serendipity, she made several changes to the coffee shop to match her personality.
"I think I'm likeable, and people feel comfortable talking to me," she said. "I wanted Serendipity to accompany that."
Springer said she expanded Serendipity's offerings to accommodate more people.
"The first thing was breakfast," she said. "Then, we built up the bakery. We subcontracted a professional baker for a year. After she left, we picked up where she left off." The faces coming in every day became more familiar, Springer said.
"There were always locals and regulars, and over time, that number grew," she said. "We started seeing the same people more and more, which is what we wanted. I wanted the place to be comfortable, a place to enjoy and just sit and relax."
One of the things Springer will miss most about the business is using her imagination in creating lunch specials.
"It was exciting to come up with new recipes and specials every week," she said. "I enjoy cooking, and the weekly lunch specials gave me the chance to try out some new things.
"I think a lot of people liked it, too. It was definitely my creation - a weekly twist."
Springer previously had been a substitute teacher in the Moffat County School District. She said while she worked in the coffee shop, teachers would come in for coffee, and she wanted to be a part of the schools again.
"There are a lot of teachers that come in to Serendipity, and I've had a chance to get to know them a little better," she said. "I'm excited to get to work with them side-by-side."
After a short break, she said she is ready to get back in to the classroom.
"I don't have a favorite subject, but I do have a favorite age-range," she said. "I like working with the kids in high school.
"They're just starting to mature and just beginning their accomplishments in life. It's just a stepping stone, but it's fun to watch these kids mature right in front of you."
Going back to substitute teaching also offers Springer more flexibility.
"People always think that when you own your own business, you have more free time - that you can kind of sneak away whenever you want," she said. "That's usually not the case."
Having a more relaxed schedule will allow Springer to spend time with her kids.
"They're both at that age when it's really important to have mom around," she said. "I loved Serendipity, but I wasn't always available.
"Right now they're 'tweens, and they're finding out a lot about themselves. And I think mom needs to be there to guide them."