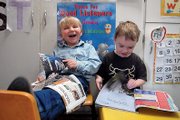 If you go
What: "Healthy Lungs Healthy Children," free training and education, and chili dinner
When: 6 p.m. Thursday
Where: Craig Christian Church, 960 W. Victory Way
Call: Rosie Crosthwaite at 824-5224 or Judi Whilden at 824-9400
What: 2009 Celebrate Children Festival
When: 9 to 1 p.m. April 11
Where: Centennial Mall, 1111 W. Victory Way
Call: Rosie Crosthwaite at 824-5224 or Judi Whilden at 824-9400
The Moffat County Early Childhood Coalition works year-round to establish programs and policies that benefit young children.
This month, the group will attempt to raise awareness to several issues of healthy child development.
During a Craig City Council meeting in March, Mayor Don Jones proclaimed April as Month of the Young Child.
April also is recognized nationally as Month of the Young Child and is supported by the National Association for the Education of Young Children.
To celebrate locally, the Early Childhood Coalition will host events and activities throughout the month in Craig for children age 8 and younger, along with their parents or guardians.
Rosie Crosthwaite, Month of the Young Child Committee chair, said the celebratory month has been ongoing for more than 10 years.
"Month of the Young Child is to draw attention to the needs and welfare of young children in Craig and around the country," Crosthwaite said. "Our goal is to improve the education in early life.
"There are a number of people - parents, teachers, organizations throughout the community who contribute to the early development of a child."
On April 11, children will be able to participate in activities at the annual Celebrate Children Festival at the Centennial Mall, 1111 W. Victory Way.
Crosthwaite said at least 15 organizations will have booths in the festival.
"There will be a number of different and free activities for children up to 8 years old," Crosthwaite said. "There will be activities where the kids can get up and move around and places where they can sit and draw."
Judi Whilden, Sunrise Kids Preschool and Childcare LLC director, said the festival will help connect parents with the organizations associated with childcare.
"Getting a head-start includes access to health care, a quality education, child care and dental care," Whilden said. "That's our role - to help families get access to agencies with the child services needed."
Whilden said Month of the Young Child also would benefit the Early Childhood Coalition.
"It's to wake up people and let them know who we are, because we are always looking for new members," Whilden said. "We try to do things for young children year round, but in April, we really want to draw attention to the kids."
Whilden urges parents to bring their children to the mall after the annual Easter egg hunt in City Park.
"Have treats, ask questions. If we don't have the answers we can point you to the person or agency that does," Whilden said.
Month of the Young Child will start Thursday with a free chili dinner and "Healthy Lungs, Healthy Children," a free training session featuring Dr. Diana Hornung, Barb Parnell and Robyn Kitchen.
The dinner and education session will begin at 6 p.m. Thursday at Craig Christian Church, 960 W. Victory Way.