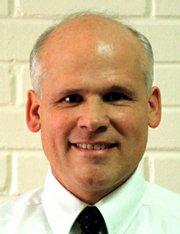 At a glance
• Moffat County School Board to begin looking for Superintendent Pete Bergmann's replacement.
• Bergmann scheduled to retire after 2008-09 school year.
• School board looks to hire consultant to help with process.
• Cost of consulting services would depend on what services School Board delegated to firm.
• School districts typically aim to hire new superintendents by February.
• Meetings of the superintendent search committee will be open to the public.
If you go
What: Superintendent search committee meeting
Where: Moffat County School District administrative building, 775 Yampa Ave.
When: 4:30 p.m. Oct. 14
Call: 824-3268
The search is on for the next Moffat County School District superintendent.
Pete Bergmann, Moffat County School District superintendent, plans to retire at the end of the 2008-09 school year. At the School Board's monthly meeting Thursday night, he gave the School Board advice about how to find his replacement.
Bergmann presented two paths the seven-member board could take in coming months.
Option one: Board members could conduct the superintendent search themselves, divvying up responsibilities, including advertising and candidate selection.
"I would not recommend you do that," Bergmann said, because selecting a superintendent who matches the community and district's needs "is one of the more important missions that you have as a board."
Option two: They could hire a firm to handle the process for them.
The school board could delegate as much or as little of the process as it wanted to the firm, Bergmann said, adding that some school districts have had their consultants craft a first-year action plan for a new superintendent.
Board members agreed on the latter option.
"We don't want to do it alone," board secretary Trish Snyder said.
Other board members echoed her statement.
The School District's next superintendent could have his or her work cut out for him or her.
"We're going to have to have someone hitting the ground running, just with all of changes in the district (and) with the schools," Snyder said after the meeting.
Her statement referred to ongoing middle school construction and facility upgrades across the district, which are funded largely by a $29.5 million bond issue voters approved last year.
Snyder also would like to see the district hire a superintendent who would support professional learning communities, or collaborations between teachers in district schools.
Snyder doesn't have a preference for either in-district or out-of-district candidates.
"Either way, we've just got to have somebody, whether they're in the district or not; we've got to have someone with strong leadership quality," she said.
Bergmann described several groups the School Board could choose to conduct its superintendent search. One of those options is the Colorado Association of School Boards. The organization offers administrative search services districts in the state.
He also presented three companies specializing in helping school districts hire administrators: Ray And Associates, of Cedar Rapids, Iowa; McPherson & Jacobson, LLC, based in Omaha, Neb,; or Hazard, Young, Attea & Associates, Ltd., from Glenview, Ill.
The School Board also may include other firms on the list of potential candidates.
Cost of consulting services are hard to pin down because they vary depending on how many tasks the School District delegates to the firm.
Regardless of which group or company they select, though, School Board members will have to move quickly.
Typically, school districts seek to hire district administrators first, followed by school administrators and teachers. Consequently, the Moffat County School District should have a superintendent hired by January or February.
All seven School Board members have chosen to serve on the superintendent search committee. Consequently, all meetings held by the committee will be open to the public.
The committee's first meeting is scheduled for 4:30 p.m. Oct. 14 at the Moffat County School District administrative building, 775 Yampa Ave.
For more information about the superintendent search committee, call 824-3268.