Centennial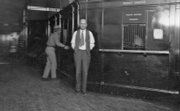 In the course of any town's history, some people stand out as born leaders - people who accept challenges and are able to get the general populous to follow them.
Irving Pierce Beckett was born Aug. 2, 1888, at North Bend, W.Va., to a hard-working farming family. When he was 17, his parents moved the family to Shade, Ohio, where they took up a new farm. The young Beckett continued his schooling there and then went on to study at Ohio University.
I.P., or "Cap," as he was called most of his adult life, began teaching in Ohio schools in 1907 and taught students until 1910 when he headed west to Colorado.
He first settled in Yuma where he taught school during 1910 and 1911. He exchanged the teacher's desk for that of a student at Colorado State Teacher's College in Greeley and then York College at York, Neb. When he finished his studies, he continued to teach in Nebraska from 1913 to 1916.
Six years to the day after he first arrived in Colorado, he arrived in Craig on June 5, 1916 and took up a homestead 25 miles northwest of town. He worked his claim during the summer and returned to teaching during the fall and winter months. One of his first teaching assignments was in the Great Divide school that he founded in his new adopted community.
When he opened the doors, he had 11 students in eight grades. The building was an abandoned homestead cabin, 12 feet by 12 feet, that he took over and brought back from a state of total disrepair. He had to furnish the desks, chairs and even the stove for the little school and was also responsible for hauling in the coal to keep his students warm. He traveled miles to get to the school; walking until the snow got too deep and then traveling in a horse-drawn toboggan.
In 1917, Beckett married Louise Aldinger, of Lyons, on Christmas day. She became his partner for the rest of his life. The couple raised six children in Craig and taught them the value of taking a responsible part in their community.
He taught school at Bell Rock until he enlisted in the military in 1918. He was discharged in March 1919 after serving in WWI.
When Beckett was discharged, he and his family returned to the homestead to work the land. He also served as a substitute clerk in the post office for a short time in summer 1919.
When the school term began, Cap returned to the classroom - this time at Spring Creek. Again, he was responsible for keeping the building warm and clean, all for the monthly salary of $70.
In fall 1920, Beckett took the civil service test for the postmaster position in Craig. His score on the test fell just below that of Edwin Johnson, but because of a ruling by President Wilson, Beckett was given the job because of his former military service. He remained in that position for the next 15 years before moving on to the next chapter of his life.
In July 1935, Beckett was appointed the consignee for the Texas Company and began a long career in that position.
In addition to his growing business, Beckett found time to serve on several boards and found membership in Craig's civic groups. He helped to organize Company A of the Colorado National Guard in 1921. He remained active in the Guard, even as his other obligations took more and more of his time.
In April 1942, he was called into active duty in the military. He spent the next 39 months in the Service Supply of the 9th Service Command, rising to the rank of Chief Purchasing Officer. He moved from the rank of captain to major before his discharge June 25, 1945. Louise ran the Texaco Bulk plant in his absence.
All four of the Beckett sons also served in WWII, and at one point they were all serving at the same time. The young men also rose through the ranks.
The Becketts' son, Arnold was killed in action Nov. 14, 1943, when his PT boat was hit by an enemy torpedo. His remains were finally returned to Craig in June 1948 and the people of Craig closed their businesses and turned out in force to welcome their fallen son home for good.
While I.P. still was in the military, he was nominated for Craig's mayor. The election was held the day after he returned to Northwest Colorado and Beckett won handily.
Whether in the capacity of mayor, serving on a regional board or as an officer in a civic group, I.P. Beckett was a staunch believer in Craig's future.
In 1947, he shared his enthusiasm; "Mr. Beckett emphasizes his faith in the town as a future transportation and industrial center. He has seen it grow from a sparsely populated town of 450 inhabitants when he came here 31 years ago to a thriving small city. It is his belief, and he asserts it emphatically that the time is not far distant when Craig will be the largest coal shipping center on the Moffat Line.
"He is also emphatic in stating that Moffat County can be made to support from two to three times the number of livestock now raided in the county. The increase can and will be made." (Courier Nov. 26, 1947)
I.P. Beckett and his family did see Craig turn from a sleepy frontier community into a hub for energy production and ranching. They put their hearts into the town and were repaid with the admiration of their neighbors. Beckett and his sons worked their land and made sure there was always time to take part in the affairs of Craig.
Irving P. Beckett died Jan. 9, 1969, in Craig Hospital.
Louise remained active as a member of the American Legion Auxiliary, the Garden Club and the Gold Star mothers. Her husband always gave her the credit for raising their children and maintaining their home whether he was home or away. She died in January 1985 and was buried in the Craig Cemetery next to her beloved husband. They shared more than half a century with each other and helped to strengthen the fabric that is today's Craig.
Shannan Koucherik may be reached at honeyrockdogs@msn.com