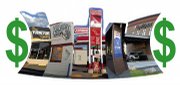 Craig — As a principal party in the 1970s oil shale boom, Glenn Vawter is excited Colorado has re-emerged as an industry destination and a region of relative prosperity.
"I never thought I'd live long enough for it to come back," he said with a laugh.
Now 70, he is back in business as executive director for American Oil Shale Corp., which operates one of six shale research and development sites in the country.
However, neither progress nor development is certain.
Some credit the energy industry for propping up Northwest Colorado in the wake of the largest financial meltdown in decades.
While employers have cut 600,000 jobs nationally since January, and the housing market shows no signs of returning peoples' investments, Northwest Colorado nearly looks the same.
But history has shown energy can be a volatile business.
Thirty years ago, oil shale busted as loud as it boomed. Northwest Colorado always is susceptible to outside pressure, Vawter said.
Today's national economy and that of the 1970s share some similarities. High oil prices have caused increasing financial pressure, while a possible national recession increasingly looks likely.
Not everything is the same, though, and not everything is going bad.
The energy blanket
There is more infrastructure to handle development, and growth has happened across the region instead of in one isolated area, further reducing communities' dependency on the energy industry.
"It seems to be more gradual in its development and growth," Vawter said.
Perhaps the biggest difference between 1970 and now is that the energy industry is after natural gas, a readily useable resource. Oil shale still is not commercially viable.
Nothing is certain, though.
The bottom fell out of the oil shale business in the 1980s when oil prices fell from $40 a barrel to $10, Vawter said. Oil was again the easiest fuel to market and sell.
It's possible to say a similar collapse could happen with natural gas, he added.
"When you're in the height of these things, you always seem to think it's going to go on forever," he said. "Still : I think there'd have to be some really severe changes before it let up."
One positive is that the industry already has built a lasting infrastructure here, such as pipelines and refineries.
Vawter said he's not an expert in natural gas pricing, but industry officials have told him it would have to drop to $5 per million cubic feet of gas before profits would disappear.
By comparison, natural gas currently sells for about that much per thousand cubic feet.
It is this reasonably secure source of jobs, taxes and development that makes some think that Northwest Colorado has a measure of sanctuary from national problems.
'The subprime debacle'
Washington Mutual collapsed Sept. 25, despite $307 billion in assets, and became the largest bank failure in U.S. history.
Other Wall Street financial institutions once were strong enough to weather the Great Depression, but have found themselves faltering in the recent housing market bust.
Banks had been granting mortgage loans to people who didn't have the credit or the capital to cover what they borrowed. As long as housing prices and demand remained high, people could sell property without foreclosing.
When housing prices fell flat, people stopped investing so heavily in real estate. Suddenly, people couldn't sell, and they defaulted on loans.
Banks involved in poor loans were stuck with property they couldn't sell and no way to recoup cash investments. Without cash to pay their own loans, banks went under.
However, smaller banks have been comparatively unaffected, said Dave Fleming, Yampa Valley Bank Craig president.
Not to say his bank's practices haven't been altered by national problems, he added.
Yampa Valley Bank does not grant long-term loans, including home loans, but it will broker those with larger institutions. In those cases, the local bank has to play by the larger bank's rules.
"With the subprime debacle, things everywhere have tightened up," Fleming said.
Yampa Valley Bank's other operations remain unchanged, he added.
House down the block
The local housing market has not been as sturdy.
There are too many questions about the economy for many people to invest in real estate, Fleming said, but he doesn't think there are severe problems locally.
"I haven't seen any major declines in (local) market values," he said. "What I think is happening is, the market is coming down to a reasonable price range."
The local housing market was so hot the last few years that any change looks negative, Fleming said.
Records from the Moffat County Assessor's Office show the real estate market has slowed.
Local real estate agents sold 55 properties in August 2007, compared to 37 in August this year. Average sale prices, however, have gone up from about $148,000 to about $162,000, a comparison of data from the same months showed.
If one includes a $5.3 million corporate transaction by Walgreens in August this year, the average sale price last month climbs to $302,000.
Craig broker/associate Mike Lewarne, 35, is sure the local market is slowing down. Houses are on the market longer, and property worth more than $200,000 has a hard time selling.
It's not necessarily a recession-led downturn, though, said Lewarne, who works for Intermountain Real Estate. The issues are not a result of fewer buyers or sellers, but because buyers can't get mortgage loans.
Because of that, he doesn't think Moffat County's real estate market will stagnate for as long as other parts of the country.
"I don't think it will suffer quite as long of a plateau," he said. "It's not that it's not healthy now; it's just not as strong as it was a year ago."
Changing dynamics
The housing market is not the only adjustment in the local economy. Unemployment is increasing, also, but some say that could be positive.
The Colorado Workforce Center in Craig reported that the local unemployment rate increased from about 3.5 percent last year to around 5 percent now.
At the same time, the office saw a 500 percent jump in new applicants who never had registered in Colorado before, or about 150 to 175 new people.
"I think (the increase in unemployment) happened because of a combination of things," said Jonny Murray, Workforce Center local veterans employment representative. "Our construction businesses didn't hire at the levels we thought they would. We've also had more people moving to the area."
The increase in unemployment may benefit employers, Murray said.
Darcy Trask, Craig/Moffat Economic Development Partnership director, agreed.
"We have so many businesses that could grow if they could attract and maintain quality workers," Trask said, adding that a national recession may affect Northwest Colorado differently than the rest of the country.
"We may see workers migrating here for opportunity," she said.
Consumer confidence may not shake local economies as much as other areas, either, Trask added.
"My sense is, the average Moffat County citizen is more conservative than the average American citizen," she said. "Our buying patterns are probably going to stay a little more consistent than the rest of America."
Evidence somewhat supports Trask's statement.
Local sales tax revenues, which directly reflect consumer spending, increased sharply in July; however, there were losses in previous months. Fleming said that, based on loan analyses, there have not been businesses threatened because of a loss in sales.
There is no certainty in the future, however. Trask would not offer a prediction for what's to come.
"These are unprecedented times," Trask said Wall Street's problems. "People who try to predict the economy are fools."