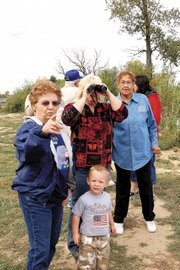 Although the early bird may get the worm, the late duck got the prize Saturday.
Or at least the late-purchased duck.
Craig Noon Lions Club member Al Shepherd sold Duck No. 373 Friday, and when he heard the winning number, he immediately recognized it as one of his final sales.
The Lions members then looked at the list of purchasers, and club president Tammie Thompson Booker called $1,000-winner Terry Sexton and left a message revealing the good news.
The duck Sexton purchased was one of nearly 400 that floated down the Yampa River on Saturday, journeying a couple of miles before reaching the finish line at Loudy Simpson Park. And about 25 club members and other people who purchased ducks lined the riverbank at the park waiting and watching to see which duck would reach the finish line first.
But setting up that finish line was tricky, as a volunteer in a kayak and a Lions Club member on the riverbank tried to string plastic tape across the river, but the current got the better of the tape. However, Duck No. 373 was the clear winner, and not too far behind were two more ducks in second and third place. There was a little bit of excitement, though, when the second- and third-place ducks switched places back and forth, bringing cheers and applause from the about 20 people watching the race's finish. In the end, Duck No. 248 came in second, netting $500 for its owner, and Duck No. 482 finished third, with the owner receiving $250.
Club members started selling ducks for $10 each in August. The Craig Noon Lions Club organized this fundraiser to benefit a key club project - providing free eyeglasses to people who cannot afford them. The money raised at the race will help buy new glasses and repair donated pairs.
One of the ways the Lions got the community to purchase and rally behind the ducks was by using rubber ducks that were painted like different branches of the U.S. military, said Lions member Beka Warren, who sold 30 ducks.
"People liked the ducks because they were buying and cheering on a branch," Warren said. "I heard the Marines were favorites."
And all three of the money winners were Marine Corps ducks.
"I think for our first year, it was a success," Thompson Booker said, adding that things were a little disorganized, but they learned from that for next year. "We probably raised at least $1,000 for the eyeglasses fund."
Jennifer L. Grubbs can be reached at 875-1790 or jgrubbs@craigdailypress.com