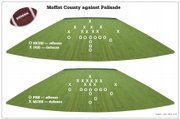 If you go
What: MCHS football vs. Palisade High School
When: 7 p.m. Friday
Where: Moffat County High School, 900 Finley lane
• For more information, call 970-824-7036
MCHS projected starters
OFFENSE
QB Matt Linsacum RB Halen Raymond
FB Pablo Salcido
WB Jasen Kettle WR Scott Mann
TE Brady Connor
LT Casey Martin
LG Cody Adams
C Jeremiah Gordon
RG Gage Spears
RT Angelo Raftopoulas
DEFENSE
DT Brian Ivy
DT Justin Benedict
NG Joshua Wilde
LB Lyle Schaffner
LB Todd Stewart
LB Colin Walt
LB Jordan Wilson
LB Scott Mann
CB Nathan Tomlin
CB Nate Chapman
FS Alex McCoy
Palisade projected starters
OFFENSE
QB Jake Appling
HB Zachary Addair
HB Aaron Wagler
WR Steaphen Isaac
WR Kelly Davis
TE Matthew Young
LT Kyle Hatcher
LG Nicholas Stephanus
C Jacob Edmiston
RG Nathan Stephanus
RT Zaid Bradfield
DEFENSE
DE Zachary Addair
DT Nicholas Stephanus
DT Nathan Stephanus
DE Aaron Wagler
OLB Michael Bauman
ILB Jacob Edmiston
MLB Travis Fehlman
ILB Matthew Young
OLB Jesse Brannon
DB Kelly Davis
S Jake Appling
Moffat County at a glance
Coach: Kip Hafey
Hafey with Bulldogs: seventh season
2008 record: 1-2 overall, 1-1 Western Slope League
PPG: 28.3
Opp. PPG: 24
Streak: won one
Career record at Moffat County (overall): 39-30 playoffs 4/6 years
Hafey's keys to victory:
• Offensive time of possession. Hafey said for his team to have success against Palisade, the offense must stay on their blocks and sustain long drives, keeping Palisade's high-powered offense off the field.
• Creating turnovers on defense. Coming up big by forcing turnovers on defense, Hafey said, is another way to keep the ball out of Palisade's hands.
• Eliminating the big play. If Palisade is going to get points, Hafey said he wants them to earn it. He said eliminating the big play is essential for the MCHS defense.
Battle Mountain at a glance
Coach: John Arledge
Arledge with Spartans: fourth season
2008 record: 4-0 overall, 2-0 Western Slope League
PPG: 32.8
Opp. PPG: 9
Streak: Won four
Career record at Palisade (overall): 31-10
Arledge's keys to victory:
• Turnovers. Arledge said regardless of how well a team is playing, securing the ball is huge.
• Controlling the line of scrimmage. If Arledge were to single out a weakness in his team, he said improvement needs to come in controlling the line of scrimmage.
• Defensive line play. Arledge said his defensive line must stay home when defending MCHS' fakes and misdirection on offense.
One game at a time.
Despite last week's convincing victory against host Battle Mountain, you'd be hard pressed to find a Moffat County High School football coach who would talk about it.
Last week was last week, and in coach Kip Hafey's one-game-at-a-time, season-long motto, Palisade High School is now, and has been all week, the Bulldogs' lone focus.
"We showed a lot of character last week coming back from 13-0 down," Hafey said. "But, you know what? That game is history now. We are facing the No. 2 team in the state, and we know we are going to have our hands full."
Palisade visits the Bulldog proving grounds Friday looking to end MCHS' hopes of beginning a winning streak.
The Bulldogs - with arguably the toughest schedule in the state - are facing their second high-ranked team in the season's first four games.
"Out of all the game film we've seen this season, I think (Palisade) is the best team." Hafey said. "They are the biggest, fastest and most physical team we are going to see."
Palisade coach John Arledge is familiar with MCHS and knows what to expect when his team faces off with the Bulldogs underneath the Friday night lights.
"I know that they are a young team," Arledge said. "But, Kip is a good coach, always has been. They have some good speed over there, too. State rankings don't mean much. They are just numbers on a piece of paper. You don't play games on paper."
Game planning
Both coaches were ahead of the game this week in trading game film. Hafey and Arledge exchanged tape before last week's scheduled contests, enabling both teams ample amount of time to prepare.
Moffat County on the offensive side of the ball:
The Bulldogs exploded for big plays out of their Wing T offense last week against Battle Mountain, scoring five touchdowns on plays of 60 yards or more.
Junior Halen Raymond racked up 105 yards on just 10 carries in his first taste of action this season on offense.
The bruising north/south running provided by Raymond opened up the outside for junior running back Pablo Salcido, who totaled 180 yards and two touchdowns on nine carries.
Although those totals came against a winless team and not the No. 2-ranked team in the state, Hafey thinks the big play opportunity still will be there Friday.
"Every play is designed to be a touchdown," he said. "It's just a matter of how well you execute. Great execution and technique by the players, along with a good week of practice, is really good for us."
Palisade will counter MCHS' offense with a 4-4 defense, using four down lineman and four linebackers.
"It's the only one I know," Arledge said. "It works well against the pass, but it's most effective stopping the run."
Moffat County on the defensive side of the ball:
Defensive coordinator Lance Scranton's unit gets a taste of the Veer this week when Palisade steps on the field. The Veer is similar to the Wing T ran by the Bulldogs, with two running backs lining up behind the quarterback. Palisade is primarily a running team, so Scranton said this week brings about a few subtle changes to his 35 defense.
Five linebackers flank three down lineman in the formation, but Scranton said he'll bring two of the linebackers down to the line of scrimmage, showing the opposition a five-man front, in what he calls a "double Bulldog."
"It's going to be a war on Friday," Scranton said. "We are going into a battle. Frankly, we are undersized, so we have to take this opportunity to get better."
Palisade is led by senior running backs Zach Addair and Aaron Wagler, who tallied more than 300 yards and three scores in last season's contest.
"We are going to have to break down and make good tackles," Scranton said. "We have to play better than we did last week if we want to win."
Notes
Moffat County is 0-6 against Palisade during Hafey's reign, having been outscored 177-82, including last season's 36-8 victory. : The closest game between the two teams was a 37-36 Palisade victory in 2004, when Palisade scored a touchdown off of a deflected pass as time expired. : Palisade and Moffat County have played one common opponent this year, with the Bulldogs defeating Battle Mountain 43-31, while Palisade beat the Huskies, 43-0 two weeks ago. : Hafey earned a state championship in 1996 as a defensive backs coach at Palisade. : DL Ethan Robinson was added to the roster last week, but Hafey said the senior won't play until next week at Delta. : Aaron Nielson and Chet Harvey return to the lineup this week after missing the first three games of the season because of injury.