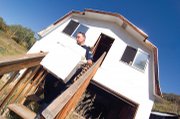 Investigators with the Routt County Sheriff's Office needed all day Monday and a 26-foot-long U-Haul to deconstruct and seize a major marijuana growth and distribution operation south of Steamboat Springs.
By the end of the day, deputies had arrested 27-year-old Kyle Lindahl on suspicion of possession of marijuana, sale of an illegal substance and possession of a deadly weapon. Lindahl is co-owner of downtown Steamboat liquor store Pioneer Spirits.
Investigators could not yet assign numbers to the alleged operation, including the amount of marijuana seized, but Investigator Ken Klinger pointed out many signs of a large and long-term operation where the plants were grown, dried, packaged and shipped.
"Most of the marijuana grows that we have found are 10- to 15-plant grows," Klinger said. "This is the biggest one I've seen in 12 years."
The drug bust was made in the 28100 block of Routt County Road 41A, in the Hilton Gulch area south of Steamboat Springs. The smell of marijuana was evident walking down the driveway toward a small house and a white two-car garage shaped like a barn. On the second floor of the garage were three rooms, including a hidden room that included 23 immature plants and 23 strands of marijuana hanging across the room to dry. In an adjacent grow room, plants as tall as 3 feet grew in small plastic pots under grow lights. The third and largest room had dozens of discarded potting plants, stripped of their vegetation.
In the house, investigators said they found additional evidence such as a loaded weapon and bags of marijuana ready for distribution. Klinger said investigators did not know where the marijuana was being distributed.
Sheriff's Office officials credited the bust to rookie Deputy Clark Kreger, who wrote the search and arrest warrants and arrested Lindahl when he turned himself in Monday evening.
"He did a great job," Sheriff Gary Wall said. "I'm as proud as I can be of these guys. This is what we do."
Kreger and his training officer, Deputy Shawn Hockaday, received a tip Sunday from the property's owner. Hockaday said the property owner discovered the operation while inspecting the property in anticipation of renting it to a new tenant beginning next month.
"If it wasn't for the owner, we wouldn't have known this was here," Hockaday said.
Lindahl has hired Steamboat defense attorney Kris Hammond, who said Monday night that he was not yet prepared to respond to the allegations against his client.
"I have not seen any of the reports related to this case," Hammond said. "He turned himself in this evening, and we're at the very beginning of this."
The size of the operation presented logistical problems for Sheriff's Office officials, who said they plan to rent a trailer to house all the evidence.
- To reach Brandon Gee, call 871-4210
or e-mail bgee@steamboatpilot.com