Centennial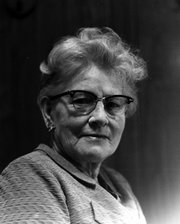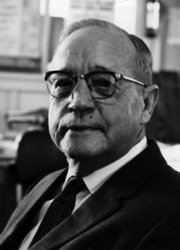 It is unlikely that John and Mary Stoddard had any indication of the impact their son Charles A. would have on many lives when he was born on Dec. 21, 1893, in their Primghar, Iowa home. He was part of their growing family; a happy, active bunch. He graduated from Bunker Hill, Illinois High School and headed to Wyoming to experience ranch life and work before he entered Knox College in Galesburg, Ill., in 1913.
Stoddard left college to teach school for a year, returning to his studies in 1916. The following year, he enlisted in the army and was sent overseas with the Occupation Forces in Germany. After his discharge, he returned once more to Knox College where he received his degree.
He met Lena Ruth Ely while in college, and the couple married on Aug. 14, 1920, shortly after C.A. returned from the military. His father, who was an ordained minister, performed the ceremony, and they were surrounded by family and friends.
Born on Dec. 17, 1894, Lena was the daughter of a successful merchant in Mineral, Ill. She and her seven siblings watched their father build his simple mercantile into a large retail operation, and they enjoyed the prosperity the business provided.
She worked as a school teacher for a short time after she graduated from college, even though teaching had not been her discipline. She developed a creative and stimulating curriculum for her students, who ranged from first through six grades. In later years, she told people that she learned more during that short tenure than any of her students did, and the education served her well throughout her life.
After their honeymoon, the young Stoddards moved to Easton, Ill., where Charles had a position as superintendent of schools. The following spring, the couple received a letter that would alter the course of their lives and bring them face to face with their destiny.
Ferry Carpenter, a Hayden rancher and prominent citizen, wrote to Charles to offer him the position of superintendent of schools in Hayden. Their first child, Constance Ann had just been born and they were ready to take on the world - or at least the Rocky Mountains.
The Stoddards wrote to Carpenter that they would accept the position, but that they wanted a home with a bathtub and a basement so that they could store corn cobs during the long, cold winters they had been warned about. Carpenter replied that there were only two bathtubs in the entire town of Hayden - one at the barbershop and the other at the Hayden Inn. He also explained to them that corn wasn't grown in northwest Colorado.
Despite those issues, the couple decided to make the move and looked upon it as an adventure. They spent their first months in the Hayden Inn before renting a tiny house next door. They soon took up a homestead on Pilot Knob, where they lived summers.
The Stoddards were quickly accepted into the Hayden community and if they were lonely for family and their old home, it couldn't have been for long. They joined the Congregational Church and were active in social organizations.
In 1926, Lloyd Deupree put the Craig Courier newspaper up for sale. Stoddard saw an opportunity and quit his job in Hayden to move his family to Craig. He became a newspaper man - something that would define his life.
By then, the Stoddard clan included three children. Lena managed to fit them all into a rented one-bedroom home and hired a babysitter so that she could help Chuck at the paper. She became the society editor and proofreader, among other tasks.
Before his move to Craig, Charles had been offered the superintendent's position in Craig. He turned it down, but he recommended his brother John for the job. John was hired and served in that position for 18 years. John also purchased an interest in the Courier.
In 1929, C.A. Stoddard and L.S. McCandless formed a partnership to run the newly combined Craig Courier and Craig Empire. Their unlikely combination quickly became a notable force in the newspaper world. Stoddard was a staunch Republican, while McCandless was a vocal Democrat. Despite their political differences, or maybe because of it, the two men were able to put out a quality newspaper that offered educated, if differing, views. They also never forgot humor, which carried them through many storms. Stoddard began a long-running series, pulling Craig's history from the pages of her newspapers and McCandless' "Shot of Scotch" became one of the most quoted columns in the United States.
They followed in the footsteps of the editors who had gone before them:
"The editors (of the early newspapers) were often the cheerleaders for the community and saw the good and bad elements and shared them with remarkable accuracy given the tools they had to work with. :These men had to know every detail about putting together a newspaper, from finding the stories and selling advertisements to setting the type and operating the press.
"Charles Stoddard recognized the contributions of the early editors, and he shared their love of Northwest Colorado. He understood his responsibility to accurately relate the current events of this time that were to become today's history.
"He spent hours poring over the musty old volumes (of paper archives), comparing them with his own product and using them as building blocks to provide (a link from) the past to the future. He knew that without an understanding of what had gone before, it is impossible to have an appreciation for the present. (Tales of the Old West Retold; published by the Museum of Northwest Colorado in 2007)."
Affectionately known as "Chuck," Stoddard managed to find time to belong to the Craig Lions Club, Masonic Lodge, IOOF, American Legion and the VFW, the Moffat County Fair Board, Building Authority, Soil Conservation District Board, and the Planning and Zoning Committee, as well as other community organizations. He was the president of the Moffat County State Bank and owned an interest in the Cosgriff Hotel.
He and Lena became U.S. Weather spotters and reported Craig's weather every three hours around the clock for many years. They also maintained their Price Creek Ranch, which was a welcomed retreat for their family and friends.
As their children grew up, they also became active in the Craig community, adding to the richness of its legacy.
Charles Stoddard sold his newspaper interest to his son Charles Jr., who ran the newspaper until he sold it to Bob Sweeney. But the senior Stoddard didn't slow down until his death in October 1967. He was interred in the Craig Mausoleum.
Lena lived in the family home at 6th & Ranney, surrounded by her children, grandchildren and great-grandchildren until her death on April 12, 1991. She was buried next to her husband in the Craig Mausoleum.
Newspaper men don't write about themselves very much. They spend their time producing the written word about others in their part of the world, and the words that C.A. Stoddard, Sr. left us provide a wonderful picture of early northwest Colorado and the growth of Moffat County written by a man who loved it.
Shannan Koucherik may be reached at honeyrockdogs@msn.com