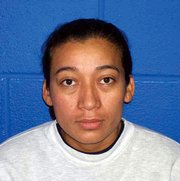 Steamboat Springs — Trial proceedings for murder suspect Luz Cisneros adjourned Wednesday on the cusp of a mistrial.
Public defender Sheryl Uhlmann called for a mistrial after Isaias Simon - the father of the 1-year-old Cisneros is accused of killing - possibly committed perjury while testifying.
Cisneros is charged with first-degree murder for the Sept. 6, 2007, death of her daughter, Brianna Simon. If convicted, she faces life in prison without the possibility of parole.
The defense has maintained that although Cisneros killed her daughter, she did not act with the necessary intent and deliberation to be found guilty of first-degree murder. Public defender Emily Wickham said Tuesday that Cisneros "snapped" on the day of the crime because of the emotion surrounding her failing relationship with the child's father.
Part of the relationship troubles had been attributed to potential infidelity by Simon. But when Simon took the stand Wednesday and was asked by Deputy District Attorney Carl Stahl about problems in his relationship with Cisneros, he said, "She cheated on me several times." The defense and the prosecution indicated this was the first time they had heard such allegations and that they were unaware of their accuracy.
Uhlmann immediately called for a mistrial, stating Cisneros no longer can get a fair trial after being labeled a "cheater" in front of the jury.
"This is a case where the fundamental issue is the mental state, and the jury is going to have to consider and determine what was going through Ms. Cisneros' head at the time this incident occurred," Uhlmann said.
If the jurors think Cisneros is of bad character because of Simon's accusation, there are no instructions the court can give to jurors to override their potential bias, Uhlmann said.
Outside of the presence of the jurors, Judge Michael O'Hara questioned Simon with the help of an interpreter, attempting to determine whether Simon misspoke when he testified that Cisneros was cheating on him in the weeks leading up to Brianna's death. Simon told the judge he never cheated on Cisneros and that he still considers her to be his girlfriend.
"I'm sorry about this," Simon said. "I still love her, and I can't do anything about it."
Whether a mistrial will be granted remained unclear Wednesday night, though O'Hara noted that he was "sufficiently concerned" that Simon could have intentionally lied during his testimony.
"This appears to me to be an intentional effort perhaps to subterfuge this trial," O'Hara said. "I'm not sure who it's instigated by."
The jury was dismissed from the courthouse early Wednesday, and O'Hara called Steamboat Springs attorney Kris Hammond to the courthouse to consult with Simon. O'Hara warned Simon that perjury is a serious felony that could result in jail time.
"I have nothing to lose," Simon said. "I understand."
Earlier in the day, before Simon took the stand, jurors heard testimony from law enforcement and medical personnel who had contact with Cisneros on the date of the alleged crime.
Trial proceedings will resume at 8 a.m. today in Routt County District Court.