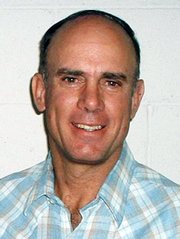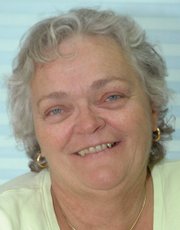 Craig — Below is the first in a series exploring candidate platforms before the Nov. 4 general election.
Tom Gray, Republican incumbent, and Lois Wymore, Democratic candidate, will challenge one another for the Moffat County Commission District 1 seat. The district extends north of Victory Way in Craig into the northern third of Moffat County.
Q: What are the most important issues facing Moffat County, in your opinion?
Wymore: Natural resources. I think the health, welfare and education of our people, of our citizens, that's real important. Back to natural resources, I think water is probably one of the most important. I think it goes in that order. Natural resources with water at the top of that list, the health, education and welfare of our citizens.
Gray: I think one of the things is increasing costs, mostly related to energy costs, are driving up the expense of providing services that the county provides. To deliver those services and to maintain our infrastructure is going to be a challenge in the future because without raising tax rates - which I don't support because the taxpayers are having the same challenges at home with the increasing energy costs that governments are - we're going to have to make sure we prioritize and deliver as efficiently as possible and maintain our infrastructure as efficiently as possible and not put that burden on the taxpayers. I think that's going to be a big challenge on the operational side.
Q: What can the county do to encourage economic growth and stability?
Wymore: Along the energy lines, I think we should at least put out for discussion, energy credits or tax credits or some sort of incentive for people to actually use solar (and) put solar on their homes, or wind or hydro.
Gray: My philosophy is that we should never forget that private enterprise is the engine that drives our economy. Government's role is to use wisely the tax dollars the citizens have chosen to give us and make sure that we don't have overbearing regulations that overburden private enterprise with costs incurred by government so that it can continue to be the engine that drives our economy and keeps us all able to be employed and able to work. To encourage our economy and stabilize it is to make sure government doesn't overextend and overburden itself. That's the government's role.
Q: The county expects a revenue decrease in the coming year. What spending can be cut from the budget and what is, in your mind, necessary to keep funding?
Wymore: Without really having the budget right in front of me and looking at it, I'm not real sure I can say what can be cut from the budget. Things that should not be cut from the budget, obviously, the largest expenses are roads and we have to keep our roads up. That's how people get to work, that's our commerce. We have to take care of those people that are dependent on our county, senior citizens, they're the people that have already worked and put their resources into the county.
Gray: We need to keep funding the mandated and traditional services that government is charged with providing, which is infrastructure, which is roads, which is law enforcement, which is the safety net of our Social Services. When we get down and look at the budget, we'll prioritize those and fund those things that need to be funded and that are mandated to be funded and we'll look at what's left. But, I've got to tell you, we've built some reserves and it would not be right to just make cuts. We're looking at about a 5-percent revenue shortfall. It would not be right to just cut 5 percent out of expenses because we've built reserves for that very reason : It also wouldn't be right to use all your reserves in one year because you might have two bad years, but certainly it would be wise to maintain those services. It costs a lot to cut services and then build them back. We need to look at any wasting or inefficiency we have in services and continue to run those to be more efficient. : (The revenue loss) may not be quite as bad as we're thinking. We don't know. With efficiencies and with reserves, we're going to be able to maintain.
Q: What is your position on energy development given the possible large-scale challenges and benefits?
Wymore: I'm not personally opposed to energy development as long as it is clean, as long as it doesn't destroy the planet. I think that we really need to be forward-looking, and we really need to push all the energy developers to look toward greener solutions. At the very least, fossil fuels are coming to their end. Whether they become outlawed, or we stop using them or we run out - and we will run out - we really need to be focused on other things, as well. We should use this as a transition period between the end of our dependence on fossil energy into energy that is environmentally friendly.
Gray: We're seeing, in oil and gas development, we're fortunate we're not in the huge booms and cycle that Garfield and Rio Blanco counties are, we're on the edge of the boom, we're a wildcat area. We have steady exploration and growth, and I think that's healthy. I think we'll continue to see steady growth in the energy sector and we can respond to that growth as a government and a community and private business can respond to that without the growing pains that you see to the south.