Moffat County Golf Invitations results
Teams scores
1. Montrose, 235, 2. Steamboat Springs, 236, Tied for 3. Central GJ 242, Battle Mountain 242, 5. Fruita 249, 6. Moffat County 251, 7. Grand Junction 252, 8. Cedaredge 253
9. Gunnison 257, 10. Delta 259, 11. Meeker 267, 12. Glenwood Springs 274, 13. Basalt 277, 14. Grand Valley 276, 15. Palisade 278, 16. Telluride 279, 17. Rifle 285, 18. Coal Ridge 290, 19. Roaring Fork 310
Top Individuals
T for 1st
Justin Russell, Montrose, 77*
Calan Hoppe, Central, 77
T for Third
Brandon Walters, Montrose, 78
Scott Ptach, Steamboat Springs, 78
Dustin Martin, Battle Mountain, 78
T for 5th
Alan Capistron, Steamboat Springs, 79
Kaelen Gunderson, Steamboat Springs, 79
Mark Stern, Grand Junction, 79
Nathan Brannon, Telluride, 79
T. for 9th
Pat Young , Montrose, 80
Micah Evanitz, Roatring Fork, 80
Team's individual
(for media interested)
Moffat County
Nick Moyer 81
Mark Dockstader 82
Taylor Branstetter 88
Erik Leonard 104
Jake Steele 93
Parker King 90
Ty DeGuelle 97
Steamboat Springs
J. Hvambsal 85
A. Capistron 79
K. Gunderson 79
S. Ptach 78
B. Vonthaden 85
Z. Eickson (JV) 83
Battle Mountain
Cameron Brown 81
Dustin Martin 78
Diego Gaspar 83
Geoff Funk 91
Edgar Gaspar 94
Rifle
A. Haynes 91
H. Peterson 98
J. Withee 96
D. Sours 103
J. Maes 116
Glenwood Springs
M. Braklow 84
K Flohr 93
T. Mayes 97
C. Avery 98
Coal Ridge
C. Spaulding 93
T. Scott 91
C. Lawrence 106
C. Elmer 106
M Pfath 112
Grand Valley
K Bell 89
J Lawrence 87
D. Walters 103
C. Chartier 111
D. Witt 100
Palisade
L. Jackson 89
B. Laro 82
D. Workman 110
M. Jones 97
T. Day 101
Fruita Monument
J. Cunningham 89
E. Grider 85
R. Keeler 83
J Saad 84
B. Espeland 82
Grand Junction
M. Stern 79
M. Barnes 97
A Wise 88
C. Holman 85
P. Harmon 96
Central
C. Hoppe 77
T. Harris 84
C. Johnson 86
M. Wiedrich 81
M. Usher 93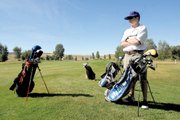 It took Mark Dockstader nine holes to get warmed up, but the Moffat County junior was pleased with his effort after that.
Dockstader shot a 37 on his second nine holes at the Yampa Valley Golf Course on Thursday to finish with an 82.
"I just wasn't ready to play that first nine," he said. "It was like my season so far. I started out slow, and now I'm playing better."
The Bulldog sophomore finished 13th overall. His 82 was second on the team to senior Nick Moyer's 81. The duo led their team to a sixth-place finish out of 19 full teams.
"We've been right about in the middle of the pack at all of our tournaments, so sixth out of 20 teams was an improvement," coach Ken Harjes said. "It's the home course, so we should have a bit of an advantage."
Moyer thought he didn't take full advantage of his home-course advantage.
"I hoped to shoot in the 70s today," he said. "I wasn't real happy because I had three double bogeys, and that killed my score."
Yet, if Thursday had been the regional tournament meet, Moyer, who finished five strokes from first, would have qualified for state.
And that, Harjes said, is the most important result.
"(Nick) probably didn't feel like he played well, but I always tell them their score has to be compared to the rest of the field - not their own expectations," he said.
Taylor Branstetter was disappointed with not meeting his expectations. The Bulldogs' third-best finisher shot an 88. Two weeks ago, he shot an 80 and an 83 at the home course during the City Championship.
"My goal was to shoot in the 80s," Branstetter said. "I got that, but I didn't think I played that great."
Branstetter said the highlight of his day was a birdie on 18.
Moyer said his best hole was also his worst hole. He hit a poor drive and approach shot, but chipped his third shot in from outside the green.
"I guess it was kind of like my day," he said. "I really didn't play that well, but managed to finish OK."
"OK" also is how the team has been playing this year. Harjes said the lack of a score in the 70s has kept the Bulldogs from moving into the top levels in the region.
"Right now, our top three guys all need to golf well for us to have a good team result," he said. "We need four guys shooting consistently in the 80s."
Harjes said that Dockstader's emergence the last couple of weeks to challenge for the top spot could be good for the team.
"That competition up top could drop some scores," he said. "We will see the next two weeks."
Even Dockstader said his late-season surge (he led the Bulldogs with a 79 Wednesday in Steamboat Springs) has been a bit of a surprise.
"I didn't really expect to shoot in the 90s this year," said the golf-team rookie. "I started the season shooting in the 90s, and now I'm close to the 70s."
Other top golfers for the Bulldogs were Parker King, 90, Jake Steele, 93, Ty DeGuelle, 97, and Erick Leonard, 104. Parker and DeGuelle played on JV on Thursday.
"We still have some guys in the mix for varsity," Harjes said. "The next two weeks will be interesting" to figure out the final varsity team for regionals.
No preview needed
The tournament today was a preview of the state golf course for Class 4A. Harjes said he was surprised that no teams from the Front Range came to check out the course.
"I didn't even get a phone call asking if they could come play," he said. "I guess teams looked at the scorecard and decided the course was easy enough that they didn't need to check it out."
But with today's winning score of 77, the course didn't prove to be easy.
"The pin placements were tough," Moyer said. "I think golfers will be surprised when they come that it's not as easy as it looks."