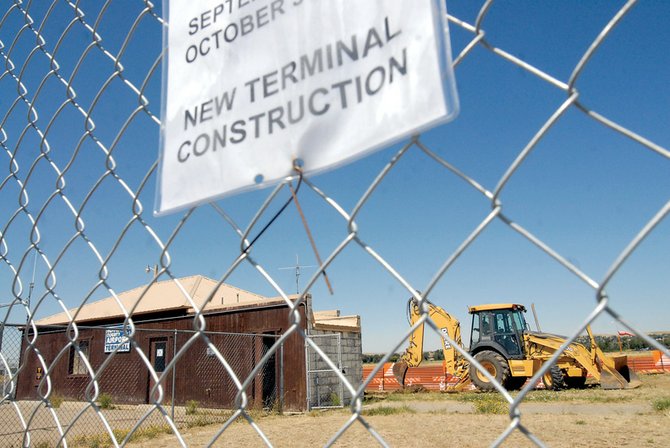 Terminal construction under way
Company has 60 days to complete structure
Thursday, September 4, 2008
At a glance
• Construction on new Craig/Moffat County Airport terminal began Wednesday.
• Project estimated to cost up to about $250,000
• About $330,550 in grants and matching funds devoted to the project
• Additional funds to be used for related projects, including installing telephone and electrical services
• New terminal slated for completion Nov. 3
A year's worth of work began taking shape Wednesday at Craig/Moffat County Airport.
Workers with Domson Excavation and Trucking began laying the groundwork for a new, 1,340 square-foot terminal building. The prefabricated building will replace the existing terminal structure, which was built about 50 years ago.
"This has been a long time coming," said Ray Beck, Craig City Council member and chairman of the airport's advisory board. "This is something we've been looking forward to."
Building the long-awaited structure will include installing utilities and setting a modular building on the site, which will serve as the new terminal building.
Ultimately, the new building is estimated to cost up to $250,000.
Grants from the Federal Aviation Administration, the Department of Local Affairs, the Colorado Department of Transportation Aeronautic Division and matching grants from the city and county will fund the new building, providing a combined total of $330,550.
The additional $80,550 in grant funds will be used for other projects related to the terminal, including installing electrical and phone services, engineering fees and demolition of the existing building, airport manager Jerry Hoberg said.
The process of securing a new terminal building has been ongoing since the past year, and the road to securing funding for the structure hasn't been smooth.
The FAA initially offered $38,000 for the project in addition to its previously-awarded $111,240 grant. Allowing airport officials to use $13,000 from a prior project also was part of the package.
Later, the FAA withdrew the offer.
In the end, the federal agency agreed to supply the additional dollars if the airport could produce a 5 percent cash match. To that end, the city and county each contributed $8,700 for the match.
Crews working for Domson have a 60-day window in which to complete the terminal, meaning the building should be ready for use by Nov. 3.
Until that date, air traffic at the airport shouldn't be affected by the construction.
"As far as planes coming and going, there will be no problem," Hoberg said.
The terminal building will sit to the south of the airport's single runway and is far enough away that workers shouldn't be in any danger from the limited amount of airplanes that fly into the airport, he said.
In Beck's estimation, the new terminal will help support an important piece of the county and city's transportation network.
"I think air travel : is just as important as automobile transportation, and I think it's an important part of our infrastructure - no different than water or sewer to Craig (and) Moffat County," Beck said.
Bridget Manley can be reached at 875-1795 or bmanley@craigdailypress.com