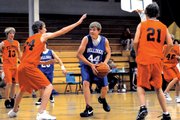 Starting the game, 0-4, from the field, Craig Middle School eighth-grader Paul Laliberte wasn't going to be deterred Tuesday against visiting Hayden.
After all, Laliberte is the reigning Hoop Shoot free throw champion, so to him, it was just a matter of time before his shots hit nothing but net.
"I just had to warm up," Laliberte said. "I was going to keep on shooting. I knew they would fall eventually."
They did.
Laliberte hit his next five shots - including two 3-pointers - on his way to a team-high 19 points as the Bulldogs pulled away with a 49-22 victory.
"The shots were open for me," he said. "So I took them."
The teams played a scoreless game until Laliberte caught on fire three minutes into the contest, accounting for nine of his team's 10 points in the quarter.
Hayden managed two field goals in the first, while CMS started to bang inside with post player Tyler Hildenbrandt once the second quarter began.
Hildenbrandt scored seven points, and point guard C.J. Chavez scored five, as the Bulldogs stretched a 10-4 first-quarter lead to 25-8 at the half.
"It was a fun game," Chavez said. "I'm a lot better than last year. I'm a lot more aggressive this year, and I've been practicing a lot harder."
It showed.
The second half started with CMS picking up right where they left off, as Hildenbrandt bullied his way to five straight points, Laliberte dropped in seven, and Buckley Garrett got in on the act, scoring three.
"We try to work the ball inside and outside every game," Hildenbrandt said. "We have a very even team that passes the ball well. This was a great game for us.
"We played awesome."
Hayden's Mark Doolin (team-high 13 points) provided most of the Tigers' offense all night, scoring five points in the third quarter.
But when the clock ran out on the period, Hayden's deficit was 27.
CMS coach David Grabowski emptied his bench for much of the final quarter, as the game's outcome wasn't even close to being in jeopardy.
"We had to make a lot of adjustments from Saturday (a 33-27 win against Steamboat Springs)," Grabowski said. "We made a few adjustments on offense, really not rushing to get our shot off and working the ball inside a little more."
Grabowski said his team took off once the inside-outside play picked up.
"We kind of did it backward tonight," he said. "We usually try to work the ball inside to open up the outside, but tonight (Laliberte) was making some really good shots from the outside, so he shot until it pulled their defenders away from our big guy."
Tigers' first-year skipper Greg Pieraccini said the difference in the ball game was obvious.
"They had size, speed and played a lot more aggressive than us," he said. "I'm a first-year coach, we're putting some new stuff in, and we've only practiced for about a week. I don't think we came ready to play.
"I think we came out flat and the shots just weren't dropping for us."
Next up for CMS is a 9 a.m. home game Saturday against Meeker.
John Vandelinder can be reached at 875-1793 or jvandelinder@craigdailypress.com