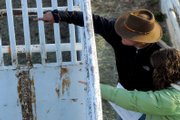 If you go
What: Bureau of Land Management wild horse and burro silent bid adoption
When: 8 to 11 a.m. today
Where: Moffat County Fairgrounds
Offered: 20 wild horses recently gathered from the Sand Wash Basin Herd Management Area
Craig — In business, spending and sales slow in times of a struggling national economy. The horse market is no different, said Fran Ackley, a wild horse and burro specialist for the Bureau of Land Management.
While this translates into fewer adoptions, it also means good fortune for anyone looking to adopt a quality horse at an economical price, he said.
"If someone wants a good horse for $125, they can get it," Ackley said Friday at the Moffat County Fairgrounds, where he was overlooking 20 wild horses.
The horses - five studs, five mares and 10 foals - were gathered recently by the BLM from the Sand Wash Basin Herd Management Area as part of a wild horse gather, a periodic event conducted throughout the West to thin herd numbers.
The horses, ranging in color and age from 6 months to 3 years old, are up for silent bid adoption today at the Fairgrounds. Bids start at $125.
Ackley said he hopes to move all the horses to new homes today but is skeptical that will happen.
"I hope so, but honestly, I don't expect it," said Ackley, who has worked for 16 years in the BLM's horse program. "It's been a poor year to move horses because of the economy."
Ackley spoke to the quality of the horses pulled from Sand Wash Basin.
"These really are some of the best horses we see," Ackley said. "For color, size and disposition, this is a really good herd. : One thing about the Sand Wash herd is you get some colors out of there you don't see anyplace else."
He said the average person adopting from events such as today's is a "someone who just wants a horse they can ride on the trails," he said.
Horses that aren't adopted today will be sent to a Cañon City holding facility, where they are tended to by inmates as part of a wild horse program. The facility is capable of holding as many as 1,800 horses and hosts adoptions two times a month.
If they aren't adopted out of Cañon City, the horses are sometimes sent to other adoptions across the country, Ackley said.