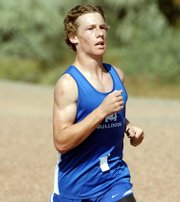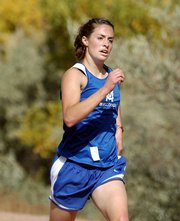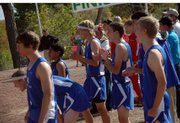 MCHS results at Region 5 championships
Confluence Park, Delta
5K - gravel/dirt
Team results
Girls - 3/9 93 pts.
Boys - 2/11 85 pts.
Individual results
Girls
1. Alicia Nelson 18:15.59
2. Maddy Jourgensen 18:32.10
12. Nike Cleverly 20:40.89
41. Megan Knez 23:16.55
47. Laura Zirkle 24:29.79
Boys
5. Chris Zirkle 17:03.69
11. Cory Wojtkiewicz 17:21.34
13. Colt Criswell 17:23.69
23. Alfredo Lebron 17:45.67
33. Jarred Blevins 18:23.07
70. Jimmy Howe 21:07.69
71. Kevin Murray 21:17.37
A season's worth of hard work and dedication came to fruition Saturday for the Moffat County High School cross-country team.
In a sport where the regular season doesn't mean much - at least to coach Todd Trapp - the Bulldogs performed their best when it mattered most.
Moffat County blazed through the 5,000-meter gravel/dirt course in Delta at the District 5 high school cross country regional championships, qualifying the girls and boys team for the state championships Saturday, Oct. 25 in Fort Collins.
"To tell you the truth, we did a lot better than I expected," Trapp said. "This whole week, I've been thinking about this meet, and I thought we were on the bubble in both positions, but I knew our kids were running well. So, I was confident in them, but also, you never know what everyone else is doing and how they are running. Going in, I was going to be happy if we took both teams to state.
"I mean, when you qualify both teams for state, how can you not be happy?"
The girls kicked the event off for Moffat County, clad in tie-dyed team shirts with "I run like a girl. Try to keep up" written on the back.
When Senior Alicia Nelson took to the track - nobody could.
Nelson won her third consecutive regional championship, cruising to the finish line in 18 minutes, 15.59 seconds.
Her closest competitor was teammate Maddy Jourgensen, who finished second, 16 seconds behind.
"Me and Maddy worked really well together," Nelson said. "We got to the two-mile mark, and then, the last mile was all out."
Nelson said winning her third individual title is an accomplishment she is proud of, but it doesn't come close to having the entire team qualify for state.
"The team, for sure" is more important, she said. "I know how hard they worked this year, and I know that they deserve it."
The individual victory was Nelson's sixth in nine races this year, and in each of those races, Jourgensen has been runner up.
"Does that bother me?" Jourgensen said when asked if she was tired of finishing second to Nelson all year. "No. I don't mind. She pushes me, and I don't think I would do as well without her pushing me."
The duo went out in front and never looked back.
If they had, they would have seen sophomore Nike Cleverly cross the finish line 12th in 20:40.8, and they also would have seen gutsy performances by No. 4 and 5 runners Megan Knez and Laura Zirkle.
The gap between the Bulldogs four and five runners had been a topic of concern heading into Delta, but Knez and Zirkle stepped up.
Knez placed 41st in 23:16.55 and Zirkle 47th in 24:29.79.
"It was every single one of them," Trapp said of the girls team. "We expected Maddy and Alicia up front to get those low points, and we needed that because we knew that our 4 and 5 were going to be a little bit farther in the pack. Nike had a really good race today. She ran great for herself, and to be in that top-15, everyone had to do their part in order for that to happen, and they all did their part."
The boys team was powered to the state finals by having four top-25 finishers.
Sophomore Chris Zirkle led the way, finishing fifth in 17:03.69.
"I wish I would have got third or something," Zirkle said. "But, our team did really good. It would have been nice to win, but getting the team through is the most important."
Zirkle got his wish.
Corey Wojtkiewicz placed 11th (17:21.34), Colt Criswell 13th (17:23.69), Alfredo Lebron 23rd (17:45.67) and Jarred Blevins rounded out Moffat County's top five needed for scoring, placing 33rd in 18:23.07.
"Chris was in the top-5, Cory had his best race of the year finishing right there with Colt and for Alfredo to be up there as a freshman is awesome," Trapp said. "And then, Jarred, our No. 5, that kid has come so far from last year to be where he is right now. I don't even know how to explain how much he's improved."
Despite the team's stellar regional performance, Trapp is putting the celebration on hold.
At least for another week.
"We still have another meet that these kids are really excited for," Trapp said. "We are getting on the bus and going home."
The team participates in it's annual Bulldog Mile on Tuesday, the last tune-up for the team before heading to Fort Collins for the state championships.
"It's tradition for us," Trapp said. "Every Tuesday before the state meet, the kids put their spikes on, and it's a race. They try to run as fast as they can in the mile. That is the last real tough workout we do, and then it's just recover, and get ready to run fast on Saturday."