Photo Gallery
BLM wild horse gather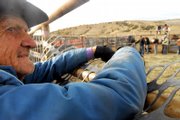 If you go
What: Bureau of Land Management Wild Horse and Burro Adoption
When: 9:30 to 10:30 a.m. Saturday
Where: Moffat County Fairgrounds
Offered: 20 to 30 wild horses recently gathered from the Sand Wash Herd Management Area
• Viewing takes place from 5 to 7 p.m. Friday, and registration is 8 to 9:30 a.m. Saturday. For more information, call 866-4MUSTANGS, or visit www.wildhorseandb...
A low-flying helicopter flew in the cold morning air Saturday, the dull thud of its rotors growing louder as it moved across the horizon at Sand Wash Basin, west of Craig.
Beneath the helicopter, a herd of North American bred wild horses - banded in colors of white, black, gray, pinto, red and blue roan, bay and sorrel - stampeded forward, charging away from the sound, and toward awaiting wranglers and a corral.
The scene repeated itself throughout the weekend during the Bureau of Land Management's wild horse gather, a periodic event conducted throughout the West to "help keep wild horse populations within appropriate levels," BLM officials said.
The majesty of watching the horses run in unison wasn't lost on Rifle resident Marilyn Harbottle.
"I think it's amazing seeing them run in with the helicopter and be brought into the corral," said Harbottle, a first-time spectator to the gather, which typically takes place every four years, or as needed.
On Friday and Saturday, the BLM-contracted company, KG Livestock, of Vernal, Utah, gathered about 162 horses from the 158,000-acre Sand Wash Herd Management Area, west of Maybell and north of Colorado Highway 13.
The Sand Wash herd includes more than 400 horses. The BLM, responsible for managing the nation's wild horses on public lands, plans to remove about 260 during the gather, and leave the herd with about 160 when it concludes.
The gather is a necessary process, said John Husband, BLM Little Snake field manager.
"The natural growth of the herd combined with long-term drought in this area have created the need for this gather," Husband said in a news release. "The BLM manages the Sand Wash Basin to ensure adequate forage to sustain a healthy herd, and ongoing monitoring tells us it's time to conduct the gather."
A crew of about 10 people from KG Livestock, including four wranglers and a helicopter pilot, are gathering the horses.
An onsite veterinarian with the U.S. Department of Agriculture reported that none of the horses sustained serious injuries Friday or Saturday, BLM spokesman David Boyd said.
"These are wild animals, so they don't want to be captured," he said. "There is the potential one could get hurt, but that hasn't happened.
"So far, things are going very smoothly."
Once gathered, the horses are either adopted locally or sent to a Canon City holding facility. About 60 mares returned to the wild will be treated with a fertility control vaccine as part of a joint research project with the Humane Society of the United States, the BLM reported.
"This should help slow the rate of population growth within the Sand Wash Basin herd, which should reduce the number of future gathers," the BLM reported in a news release.
Twenty to 30 of the wild horses will be up for adoption Saturday, Oct. 25 at the Moffat County Fairgrounds.
Kathie Johnson, a Craig resident and city animal control officer, watched the gather Saturday. In 2005, she adopted a mustang from the gather.
Johnson said she would encourage others to adopt this weekend.
"It's pretty incredible seeing them," she said Saturday morning. "It's awesome, but scary. I felt bad for the horses because they're probably scared to death. : I hate to see this have to happen, but I hope a lot of people come out to adopt because they're pretty nice horses."
Joshua Roberts can be reached at 875-1791, or jroberts@craigdailypress.com.