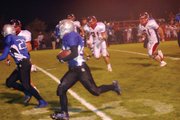 Game statistics
Moffat County 7
Steamboat Springs 43
Box Score 1 2 3 4 F
MCHS 7 0 0 0 7
SSHS 14 14 15 0 43
Team Statistics
MCHS SSHS
First Downs 10 11
Rushes-yards 40-129 34-164
Passing-yards 61 196
Comp-att-int 3-10-3 7-17-1
Punts 4-110 2-88
Fumbles-lost 1-1 4-1
Penalties-yards 7-45 7-45
Scoring
First quarter
SS - Harris 86 pass from Hinder (Schuette kick) 6:58
MC - Kettle 30 run (Raymond kick) 5:04
SS - Egan 1 run (Schuette kick) 3:23
Second quarter
SS - Dover 2 run (Schuette kick) 11:55
SS - Egan 9 run (Schuette kick) 3:18
Third quarter
SS - Egan 16 run (Schuette kick) 9:11
SS - Spady 55 pass from Hinder (Hinder pass) 5:57
Fourth quarter
None
Key individual statistics:
Rushing
Moffat County
Pablo Salcido 17-72
Halen Raymond 9-28
Jasen Kettle 8-48-1td
Steamboat Springs
Fraser Egan 14-59-3td
Austin Hinder 8-54
Joe Dover 6-28-1td
Passing
Moffat County
Matt Linsacum 3-10-61
Steamboat Springs
Austin Hinder 7-16-196-2td
Receiving
Moffat County
Pablo Salcido 3-61
Steamboat Springs
Alex Wood 3-25
Joe Dover 2-30
Cody Harris 1-86-1td
Jack Spady 1-55-1td
Defense
Moffat County
Interception - Aaron Nielson
Sacks - Jordan Wilson, Frank Archuleta
Steamboat Springs
Interception - Alex Wood, Jack Spady, Jasper Gantick
Sacks - Carl Steele, Alex Wood, Bryce Mayo
Moffat County and Steamboat Springs' matchup Friday night was exactly what you'd expect in a high school rivalry game.
It started as a dogfight in a "what-you-can-do, I-can-do-better" pushing match, but the Sailors pulled away for a 43-7 road victory.
Turnovers were the key Friday, with both teams turning over the ball twice in the first half - but the Sailors capitalized on MCHS' miscues, while the Bulldogs could not.
"We talked about the big plays before the game," MCHS coach Kip Hafey said. "They have a big play offense, and that's exactly what they did to us."
The Sailors (6-1 Western Slope League, 7-1 overall) got on the board first, as junior quarterback Austin Hinder hooked up with junior receiver Cody Harris on an 86-yard bomb down the left sideline.
The Bulldogs (2-4 WSL, 3-5 overall) answered less than two minutes later behind the shifty running of junior Jasen Kettle.
Kettle picked up 15, nine and 30 yards, consecutively, scoring on his last possession to tie the ballgame.
Steamboat showed its quick-strike potential once again, using up only 1:54 from the clock on its way to a one-yard scoring plunge by junior fullback Egan Fraser.
Moffat County was forced to punt after a three-and-out, and the Sailors were ready.
Steamboat senior Kevin Stokes broke through the line of the MCHS special teams unit, blocking the Ethan Robinson punt and taking over at the 30-yard line.
Sailors junior Joe Dover scored from two yards out, giving the visitors a two-touchdown lead.
Moffat County was stymied on its next possession, but found an opportunity to score points on Steamboat's ensuing possession.
Bulldog junior Aaron Nielson picked off Hinder at the 38-yard line, but the Sailors returned the favor six plays later.
Bulldogs quarterback Matt Linsacum, a junior, threw the first of his three interceptions halting the Moffat County offense in its tracks.
The Bulldog defense had a golden opportunity minutes later, as junior Scott Mann picked off an errant Hinder pass, but the play was overturned on a roughing-the-passer penalty.
Egan scored his second of three touchdowns in the game 3:18 before the half, putting the Bulldogs in a 28-7 hole.
The Sailors' defense stiffened, forcing two second-half interceptions by Linsacum - the third and fourth turnovers of the game by Moffat County.
Egan scored from 16 yards out, and Hinder connected with junior wide out Jack Spady to account for the final margin of victory.
"Luckily, we were able to capitalize on the turnovers," SSHS coach Aaron Finch said. "It gave us opportunities to attack. We have so many athletes that just make things happen. I think a lot of being a coach is to put your athletes in a situation to be successful and let them make plays.
I wish I could take credit for having wisdom and great smarts, but I'm just lucky that I have a great group of kids that know how to move the football down the field."
Notes
Jasen Kettle was injured midway through the second quarter and didn't return to the field. Hafey said the junior's status is up in the air.
John Vandelinder can be reached at 875-1793 or jvandelinder@craigdailypress.com