On the 'Net
You Decide: Election 2008
Craig Daily Press elections Web site - Moffat County's best source of election news and resources.
www.craigdailypress.com/news/election_2008/
Also, check out video of the local debate between Democrat Ken Brenner and State Rep. Al White, the two candidates for Colorado State Senate, on www.craigdailypre...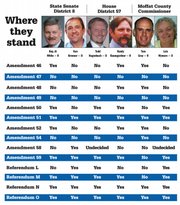 Residents in the audience at Debate 2008 gave different opinions on how interesting they thought this year's political candidates are.
"There were a lot of them I didn't know much about," Craig resident Irene Losolla said. "It helped me get to know a little bit more about what they stand for and : just to know them, so I can put a face to the name."
For Dale Potter, the debates proved he didn't need to see their faces or hear their speeches to know who they were.
"I knew what they'd stand for if they were Republican, and I knew what they'd stand for if they were Democrat," he said.
Many were left with more questions, however, as exactly who they would be voting for is a matter left for more consideration.
"They all have their good points in their presentations," Craig Mayor Don Jones said. "It wasn't earth-shattering. I haven't made up my mind (who to vote for) at this time. I want to ponder it for a while."
The mayor was especially interested in the race for 14th Judicial District Attorney between Democrat Tammy Stewart and Republican Elizabeth Oldham. He said the District Attorney's Office needs to do something about Northwest Colorado's drug problems.
"It was interesting to see what the District Attorney candidates plan to do about that," Jones said. "I think a tougher stance is needed, yes. I think they're too lenient."
Jones said Oldham's position as assistant district attorney will not affect his decision on who to vote for given his problems with the current district attorney's policies.
Stewart used that as a key point when she spoke, though, and said that Oldham would contribute to crime problems just as her boss does now.
Her attacks turned off some voters.
"I liked her ideas, but not her negative comments," said Jan Rogers, a retired Moffat County resident. Oldham's "ideas are similar, and I like her positive attitude."
Rogers added she had only met Stewart before, and was not as familiar with Oldham before the debate. However, because of the event, she decided to change her vote and cast a ballot for Oldham.
It was somewhat important to Rogers that candidates make an effort to meet the constituents they hope to represent at the state Capitol. She also commented she had met Todd Hagenbuch, Democratic candidate for state House District 57, three times, but had never heard from his opponent, Republican Randy Baumgardner.
Rogers also said she approves of Republican Rep. Al White's positions more after hearing him speak, however, she still plans to vote for his Democratic opponent, Ken Brenner, in the race for state Senate District 8.
"Ken Brenner by a half inch," she said.
She appreciates White's support for Colorado Northwestern Community College after he fought for $26 million for the school from the Legislature, but liked Brenner's statements about energy development and roadless-designated areas better.
In the race for Moffat County commissioner between Republican incumbent Tom Gray and Democrat Lois Wymore, the debate did not affect her opinion at all, she said.
"I have wanted a change in the county commissioners' 'good ol' boy' group for a long time," she said. "Lois is a breath of fresh air."
The Commission candidates also did not affect Donna Zulian's opinion of the race.
She intends to vote for Gray, and when asked if the debate had any impact on her, she succinctly said, "No."