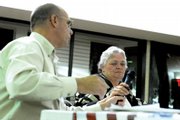 Four candidates for two local offices faced off in a debate Thursday, debating issues ranging from Moffat County budget priorities to public perception of the 14th Judicial District Attorney's Office.
District Attorney candidates Elizabeth Oldham and Tammy Stewart launched the second half of the debate, which was hosted at Centennial Mall and sponsored by Craig Daily Press and KRAI and 55 Country.
The tri-county Judicial District includes Moffat, Routt and Grand counties.
Oldham, a Republican and Grand Lake resident, is the 14th's assistant district attorney. Stewart, a Democrat who hails from Steamboat Springs, is a Moffat County assistant attorney.
Both candidates agreed that the public has a poor perception of the District Attorney's Office.
Oldham argued that perception is fueled in part by mishandled cases. Creating public forums and creating an "open door policy" could help mend what some may see as a rift between the District Attorney's Office and the public, she said.
"I think people sincerely want their District Attorney's Office to be open and transparent," Oldham said.
However, she added, misconceptions about the office also have contributed to the problem.
Stewart said the current administration and her opponent are contributing factors to what she believes is the public's poor perception of the District Attorney's Office.
"I think that the record of the current DA's Office, which includes (Oldham) as the assistant district attorney, upholds the public perception," Stewart said.
When asked about incorporating citizen advisory boards into the District Attorney's Office, both candidates agreed the program would be effective.
Oldham said she would launch a Web blog where community members could give feedback to prosecutors. After holding public forums, key community members would be chosen to serve on the board.
Stewart suggested actively seeking out a spectrum of individuals to serve on the advisory boards, including law enforcement officials, parents, teachers and mental health specialists.
When asked about Moffat County's drug court program, both candidates agreed that the program has proven to be effective.
However, while Stewart recommended using the program for first-time possessors and users, Oldham held that the program should be reserved for more deeply entrenched drug users.
Oldham and Stewart also agreed that prosecutors should be allowed a measure of flexibility in making decisions.
A debate between Republican Tom Gray, District 1 commissioner, and Democrat Lois Wymore followed closing statements made by Oldham and Stewart. Gray and Wymore kicked off the debate by differing on the size of Moffat County's energy boom.
"I think we need to embrace" a boom, Wymore said, adding that the county should seek to embrace companies that are "as green and clean as they can possibly be."
Gray said Moffat County has experienced steady energy development, but not to the same degree as other counties have.
"All you have to do is drive down to Rio Blanco County or Garfield County and see what a boom is," he said. "It may or may not happen here."
In the past, he said the Commission has attempted to balance energy development with local impact.
Both candidates agreed on several issues, including the lack of affordable housing in Moffat County and the need to attract outside businesses to the area.
The two held different views on the county's top funding priorities. Upkeep on Moffat County roads headed Wymore's list of priorities, while Gray said providing funding to necessary services, like law enforcement, should be the first projects to get county funding.
Bridget Manley can be reached at 875-1795 or at bmanley@craigdailypress.com.