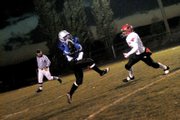 Game statistics
MCHS: 0 (1) 19 (2) 0 (3) 7 (4) 26 (F)
RHS: 0 (1) 0 (2) 10 (3) 6 (4) 16 (F)
Team statistics:
First Downs: 10 (MCHS) 13 (RHS)
Rushes-yards: 35-257 (MCHS) 45-142 (RHS)
Passing-yards: 0 (MCHS) 92 (RHS)
Comp-att-int: 0-5-0 (MCHS) 6-14-2 (RHS)
Punts: 3-99 (MCHS) 4-79 (RHS)
Fumbles-lost: 2-1 (MCHS) 1-0 (RHS)
Penalties-yards: 10-90 (MCHS) 11-115 (RHS)
• Scoring
MC: Kettle 66 run (kick failed) 7:32 - 2Q
MC: Wilson blocked punt return (kick failed) 4:58 - 2Q
MC: Kettle 9 run (Raymond kick) 0:37 - 2Q
R: Anderson 1 run (Castillo kick) 6:27 - 3Q
R: Castillo 33 field goal 0:36 - 3Q
MC: Salcido 8 run (Raymond kick) 6:17 - 4Q
R: Costilo 8 pass from Anderson (pass failed) 2:19 - 4Q
Key individual statistics:
• Rushing
Moffat County
Pablo Salcido 12-29-1td
Halen Raymond 11-107
Jasen Kettle 9-110-2td
Rawlins
Levi Gale 18-62
Jonathan Castillo 8-31
• Passing
Moffat County
Matt Linsacum 0-4
Rawlins
Randy Anderson 6-12-1td
• Receiving
Moffat County
None
Rawlins
Jesse Costilo 3-45-1td
• Defense
Moffat County
Interception - Nathan Tomlin (2)
Sacks - Jordan Wilson (3), Ethan Robinson (2), Frank Archuleta, Justin Benedict
Rawlins
Sacks - Trey Jebens
Craig — It took them a while to get going, but when they did, they rolled.
And when they weren't rolling, they hung on.
The Moffat County High School football team celebrated homecoming the way all teams want - with a 26-16 victory - but it didn't come without a bit of suspense.
The surging Outlaws cut a 19-0 halftime lead to nine in the third quarter, but an 8-yard touchdown run by Pablo Salcido halted any chance of a Rawlins upset.
The homecoming victory was the first in four years for the Bulldogs, a monkey that coach Kip Hafey said he's happy is off his team's back.
"Oh, definitely," he said. "We were in a rut there for awhile. It's great to pop out of it."
The game was scoreless through the first quarter, but not because of a lack of effort by the Bulldogs (3-4 overall, 2-3 Western Slope League).
Junior Nathan Tomlin intercepted a pass at the Outlaws' 49-yard line, but the first of two first-quarter fumbles by quarterback Matt Linsacum forced a punt.
Charging down to the 13-yard line on their next possession, Linsacum fumbled again - this time resulting in a turnover - that once again halted the Bulldogs offense.
"Turnovers will kill you," Hafey said. "But, on the plus side, our defense was awesome."
Junior Jasen Kettle opened the scoring for Moffat County 4:28 into the second quarter, breaking around left tackle for a 66-yard touchdown jaunt.
The Bulldogs defense took over from there.
Rawlins (2-4 overall, 0-2 East Division, 3A - Wyo.) was held to a three-and-out and forced to punt.
Senior defensive tackle Ethan Robinson (two sacks) broke through the Outlaws' line, jumping into the air and blocking the kick.
Junior Jordan Wilson (three sacks, one touchdown) scooped the ball up and rumbled into the end zone for a touchdown, and the 12-0 lead that followed.
"I got lucky," Wilson said. "I didn't see anything. I was just thinking about running."
The Bulldogs parlayed their defensive momentum into another score four minutes later, when Kettle (nine carries, 110 yards, two touchdowns) raced around right tackle for a nine-yard score.
When the dust had settled, Moffat County scored three touchdowns in the first half's final seven minutes.
Despite Moffat County's second quarter fireworks on the field and the halftime fireworks in the air, Rawlins came out of the half ready to steal some of the Bulldogs' thunder.
"We talked about what we came here to do," Outlaws coach Travis Moore said of his halftime speech. "We wanted to run the ball and hit them hard."
Rawlins did just that.
The Outlaws' defense shut down Moffat County in the third, and the offense picked up 10 points on a quarterback sneak and a 33-yard field goal, to pull within nine, at 19-10.
But the bruising running of MCHS junior Halen Raymond (11 carries, 107 yards) began to wear on Rawlins.
Raymond softened the Outlaws' defense for Pablo Salcido, who scored from eight yards out - essentially ending Rawlins' chance of a comeback.
"It's awesome that we had two guys over 100 yards," Hafey said. "We hit the inside well, and we hit the outside well. But our defense was huge tonight. That's what won us this game."
Rawlins quarterback Randy Anderson connected with receiver Jesse Costilo on an eight-yard touchdown pass with 2:19 left in regulation to account for the final margin of victory.
Next up for the Bulldogs is a home game Friday against rival Steamboat Springs.