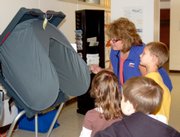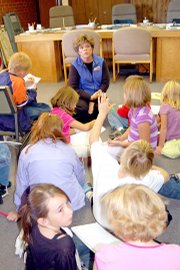 Mock election results
Total voters: 29
(each vote represents 2 to 4 students)
Winners are listed in bold type.
President:
Republican Abraham Lincoln: 22
Federalist John Adams: 1
Whig Zachary Taylor: 6
Democrat Grover Cleveland: 0
Senator:
Republican Harriett Tubman: 8
Federalist Walt Whitman: 10
Democrat Fredrick Douglass: 11
Governor:
Republican Susan B. Anthony: 13
Whig Mark Twain: 9
Democrat Cesar Chavez: 7
Mayor:
Republican Charles Dickens: 2
Democrat Martha Washington: 12
Write-in candidates (mostly the students' own names): 15
County Judge:
(non-partisans)
Betsy Ross: 7
James Madison: 22
Ballot issue:
Should Internet voting be allowed in the United States?
For: 18
Against: 11
There should be voting via the Internet in Moffat County, the students participating in the 2008-09 Newspapers in Education program decided.
This was one of many of the issues and races students voted on during a mock election held Wednesday and Thursday at the Moffat County Courthouse.
This year's Newspapers in Education program, which is sponsored by the Daily Press, is focusing on elections, and where better to learn about elections than the place where it all happens - the Courthouse and Clerk and Recorder's Office.
Every year, the NIE program picks a topic to study. Teachers select students from each class in each grade, first through sixth, to participate. Then, the schools' literacy program coordinators and the Daily Press set up three field trips for the students to visit a place important to the topic or hear from an official about the topic. After each field trip, the students have to write an article about their trip, which is then printed in the Daily Press. The fourth trip of the year is a visit to Steamboat Springs to see the printing presses at the Pilot & Today.
The first field trip of the year found students from Sunset and Ridgeview elementary schools visiting the Courthouse on Wednesday morning and East and Maybell elementaries and Craig Intermediate School on Thursday morning to hear county Clerk and Recorder Elaine Sullivan speak about the importance and history of elections. Then, the children got to ask Sullivan questions and vote in a mock election on the same voting machines that Moffat County residents will use to vote in the Nov. 4 general election.
However, the ballot the students voted was different from those adults soon will face.
They had to decide whom they wanted for president: Republican Abraham Lincoln, Federalist John Adams, Whig Zachary Taylor or Democrat Grover Cleveland. They also voted on a senator: Republican Harriett Tubman, Federalist Walt Whitman or Democrat Fredrick Douglass; for governor: Republican Susan B. Anthony, Whig Mark Twain or Democrat Cesar Chavez; for mayor: Republican Charles Dickens, Democrat Martha Washington or a write-in candidate; and for county judge: non-partisans Betsy Ross or James Madison.
And then there was that ballot issue: Should Internet voting be allowed in the United States? They had to choose whether they were for or against it.
The students voted in groups of two and three, with either Chief Deputy Clerk Lila Herod and Deputy Clerk Stephanie Beckett helping them understand how to use the machine - especially when they wanted to enter a write-in candidate's name.
Herod and Beckett originally had not planned on turning this into a formal election. In fact, the practice machine they intended to use was not working properly Wednesday morning, so the two set up two regular voting machines and put together a mock election. Then, partway through the first field trip Wednesday, the two decided to put in a little extra effort to tabulate the results from all four voting groups to make up a true student election.
The students and teachers were thrilled to learn that they would get to see their election results printed in the newspaper.
But these student reporters' next step after the field trip was heading back to school to write up articles about their experience, which also will appear in the Daily Press in the coming week.