Craig schedule
Below are the morning stops for Steamboat Springs Transit in Craig through Nov. 22. Trips between Craig to Steamboat are $5 each way. Students ride for half price, and seniors 65 years and older ride for free with a valid I.D.
• North Kum & Go: 5:23 and 6:23 a.m.
• 13th Street & Yampa Avenue: 5:24 and 6:24 a.m.
• 16th Street & Yampa Avenue: 5:25 and 6:25 a.m.
• American Legion: 5:28 and 6:28 a.m.
• Loaf N' Jug: 5:30 and 6:30 a.m.
• Riford Road and Crescent Avenue: 5:32 and 6:32 a.m.
• Wickes Avenue and Crescent Avenue: 5:33 and 6:33 a.m.
• Holiday Inn of Craig: 5:35 and 6:35 a.m.
• Lamplighter Estate on First Street: 5:36 and 6:36 a.m.
• Mack Lane and West Second Street: 5:37 and 6:37 a.m.
• Pizza Hut: 5:39 and 6:39 a.m.
• Fourth Street and Ranney Street: 5:40 and 6:40 a.m.
• Steamboat Transit facility: 5:44 and 6:44 a.m.
• East Kum & Go: 5:50 and 6:50 a.m.
See this story on www.craigdailypre... for a full schedule of bus routes and rates between Craig and Steamboat, as well as a map of stops.
Document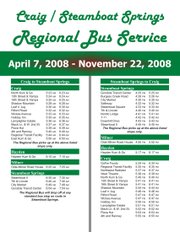 Craig — Officials expect the new Steamboat Springs Transit facility in Craig figures to be finished within a month, before winter ices the Yampa Valley, Jonathan Flint said.
Flint, Steamboat Transit operations manager, said the new facility will make regional bus services between Craig and Steamboat easier for workers and other residents making the trip.
"We understand that people depend on the bus service to get to work, and the new facility will make bus services more reliable and more comfortable for passengers," he said.
With covered parking for Craig buses, Moffat County residents will not have to worry about frozen bus engines or breakdowns in Steamboat making them an hour late to work, Flint added.
"Reliability is very important to us and was the primary and main reason for building a new facility in Craig," he said.
There also is space for residents to park their own vehicles and wait, whereas before, people would have to walk to a bus stop with no parking.
An inside waiting room should make passengers comfortable as they kill time before a bus arrives, Flint said.
There are about 50 Moffat County residents who use Steamboat Transit's regional bus service each day during the summer.
The number of users usually goes up during wintertime, Flint said.
His department plans to keep two buses running each way in the morning and another two each way in the evening for the time being.
Different service expansions could happen in the future, though, Flint said.
One positive of the Craig facility, he said, is that if a national or wider-region bus service - such as Greyhound - were interested in adding a route in Northwest Colorado, the Craig facility would give them a place to store buses and have a defined city stop as incentives.
The existing bus stops and times will not change when the new facility opens, with the exception of two on the east side of town.
The stop at the east Kum & Go on the way to Steamboat Springs and the stop at Gofer Foods on the way into Craig each will be moved to the new transit building, which is about one block west of both.