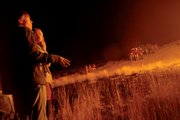 Twenty-nine years ago, Dennis Jones watched the homecoming bonfire as a senior in high school.
Thursday night he reminisced as he watched students from his alma-mater gather around the flames that engulfed wooden pallets and danced toward the night sky.
"I think school spirit was a bit more involved when I was in high school," he said. "But maybe all the old-timers think that."
Jones, a captain for Craig Fire/Rescue, said he was proud to help keep the tradition going.
"Back then, things were a lot less structured," he said, remembering that when the high school used to be the current middle school the bonfire was in the parking lot of the bus garage. "Probably what has allowed for the tradition to keep going is that we've added some structure with the fire department helping control it."
Alumnus Matt Ray, the new high school athletic director, said when he went to school in the '90s that the fire was on the west side of the high school campus. Although the fire location (it's now northeast of the school) has moved around the community, it has been a long-standing tradition for homecoming week.
High school Principal Thom Schnellinger said that although bonfires are happening less and less in other places, community cooperation keeps the Moffat County one going.
"It has remained safe here and a lot of that has to do with the teacher participation and the fire department," he said. "The students have been relatively well-behaved during the event, as well."
Schnellinger, a former art teacher, also thought that, "It provides a visual focal point for the homecoming week. It's something that's big enough that a lot of the community can see it."
Freshman Alfredo Lebron was appreciative of his first bonfire.
"It was pretty cool," he said. "It's probably the biggest fire I've seen."
Lebron said he thought the fire was a good idea because it was something everybody could be a part of, but he said he was most looking forward to the climbing wall during today's lunch.
Junior Taelor Stagner said she liked the bonfire because everybody could "chillax" together after school.
"It's really the only activity during homecoming that everybody can participate in," she said. "It's a good tradition, and I'd be bummed if it was canceled."
Fellow junior Kelly Edington said she liked the tradition, but was indifferent about whether it should continue.
"It's not that amazing, but it's pretty cool," she said. "I'm looking forward more to the football game."
As the flames started to die down, senior Colt Criswell pondered his final bonfire.
"I really like fire, so that's why I come," he said. "I've been to every bonfire, and I like it because it's free, and it's a cool group activity, and it's better than having to dress up" for the homecoming dance.