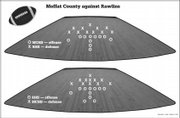 If you go
What: MCHS football vs. Rawlins
When: 7 p.m. Friday
Where: Moffat County High School, 900 Finley Lane
Notes: The game is MCHS' homecoming
Call: 970-824-7036
Projected starters
Moffat County High School
OFFENSE:
QB Matt Linsacum
RB Halen Raymond
RB Pablo Salcido
WB Jasen Kettle
WR Scott Mann
TE Chet Harvey
LT Casey Martin
LG Cody Adams
C Jeremiah Gordon
RG Gage Spears
RT Angelo Raftopoulas
DEFENSE:
DT Ethan Robinson
DT Justin Benedict
NG Hunter Zellers
LB Lyle Schaffner
LB Todd Stewart
LB Nathan Tomlin
LB Jordan Wilson
LB Frank Archuleta
CB Alex McCoy
CB Aaron Nielson
FS Scott Mann
Rawlins High School
OFFENSE:
QB Jonathon Castillo
FB Trey Jebens
HB Levi Gale
HB Noah Archuleta
WR Scott Frost
TE Jesse Castilla
LT Clayton McSpadden
LG Ryley Dawson
C Kyle Hickman
RG Christian Moore
RT Jason Phillips
DEFENSE:
DE Jason Phillips
DT Clayton McSpadden
DT Kyle Hickman
DE Ryley Dawson
LB Levi Gale
LB Jon Jolly
LB Karl Fagnant
LB Trey Jebens
CB Jonathon Castillo
CB Randy Anderson
SS Jesse Castillo
At a glance
Moffat County High School
Coach: Kip Hafey, seventh season with Bulldogs
2008 record: 2-4 overall, 2-3 Western Slope League
Opp.W/L (overall): 16-21
PPG: 23.8
Opp. PPG: 34.7
Streak: lost one
Career record at Moffat County: 40-32
Hafey vs. Rawlins: 6-0
Hafey's keys to victory:
• Time of possession. Because both offenses are geared toward the running game, Hafey said the Bulldogs need to win the battle of the clock to keep Eagle Valley off the field.
• Turnovers. Hafey said if his defense can create turnovers by the Devils, and quiet the Eagle Valley homecoming crowd, his team's chance of a victory increases.
• Third-down stops. The Bulldogs gave up too many first downs in third-and-long situations last week, a trend Hafey said he wants to see end this week.
Rawlins High School
Coach: Travis Moore, second season with Panthers
2008 record: 2-3 overall, 0-2 East Division (Wyo. - 4A)
Opp. W/L overall: 12-15
PPG: 3.4
Opp. PPG: 19.6
Streak: lost three
Career record at Rawlins: 3-10
Moore vs. MCHS: 0-1
Moore's keys to victory:
• Ball control. Moore said the Outlaws need to chew up the clock against Moffat County to keep the Bulldogs' offense off the field.
• Turnovers. Coming out on the plus side of turnovers, Moore said, is key to not making mental mistakes.
• Defense. The game of football is simple: The team that scores the most points wins.
Moore said his defense needs to play tough and stop the Bulldogs from scoring.
Friday's game against visiting Rawlins, Wyo., will mark the third consecutive homecoming game for the Moffat County High School football team.
After a mixed bag of results from the first two, this Friday, the Bulldogs are happy to finally be playing host.
"I'll tell you what, it's big," Bulldogs Coach Kip Hafey said. "It's really big. The kids are really focused this week."
Moffat County hasn't claimed a win in their last three homecoming games, meaning every player on the team has yet to taste victory during their annual party.
So, the key to a good homecoming game for the Bulldogs this year is the opponent.
Schedule a tough team, and a fourth consecutive loss upsets the crowd.
Or, look for a team you can beat up on, and let the celebration begin.
Enter Rawlins High School.
The Broncos have never beaten the Bulldogs with Hafey at the helm.
In fact, the games have been lopsided contests in favor of this year's host.
The Bulldogs are 6-0 against Rawlins, with Hafey's boys outscoring the Broncos, 233-20, with four shutouts, for a per-game average score of 39-3.
The Broncos are 2-3 this season overall, coming off of three consecutive shutout losses.
"Moffat County is a perennially tough team," Rawlins Coach Travis Moore said. "But we are running on a philosophy this season that every team we play is the best team. Every game we play is like the Super Bowl."
Despite his team's dominance of the Broncos, Hafey isn't letting them overlook the fact that the greatest upset stories are built on these types of games.
"We learned from last week that it doesn't matter what your record is," Hafey said. "With where we're at right now as a team, we're not good enough to overlook anybody. I think our kids understand that."
Game planning:
The coaches didn't exchange any game film this week, with Hafey relying on the information given by the coaching staff of the Broncos' opposition. Moore is relying on what he learned in last season's game.
Moffat County on the offensive side of the ball:
The Bulldogs' Wing T offense moved the ball well last week at Eagle Valley, but turnovers were the culprit when it came to getting the ball into the end zone.
The Broncos' defense will line up in a 4-4 Stack - four down lineman, four linebackers and three defensive backs.
"We are going to go with pretty much the same thing we have all season," Hafey said.
Moore knows Moffat County is primarily a run-first team, and he said he thinks he knows how to stop the Bulldogs from scoring.
"We know that they can put up points," Moore said. "We have to try to keep the ball out of their hands as much as possible. If we can force a couple of turnovers, that should really help."
Junior center Jeremiah Gordon returns to the lineup this week, moving senior Ethan Robinson back to his regular full-time position on defense.
Moffat County on the defensive side of the ball:
Rawlins lines up offensively in a Wishbone formation - five lineman and a tight end, with three running backs, a receiver and a quarterback.
The Bulldogs will counter the set in defensive coordinator Lance Scranton's staple 35 defense with the Double Bulldog front.
The Broncos are averaging just three points per game this season, but they have wiggle room against the Bulldogs, who have an average of nearly 35 points per game.
"We are in position all the time; we just got to make plays," Scranton said. "That's our big goal this week. We need to know where we are on the field, and we need to make plays."
Scranton's defense has allowed just 20 points to the Broncos the six times the teams have met during his tenure, for an average of a little more than three points a game.
As far as Scranton's concerned, past results mean nothing.
"I don't worry about that stuff, because this is our defense," Scranton said. "I don't worry about what they're doing," he said. "I worry about what we're doing."
Injuries: Bulldogs: Brady Conner (knee), Brian Ivy (ankle). Devils: None.
Inactive players: Bulldogs: None. Devils: None.
Notes: MCHS assistant coach Ken Olinger was a member of the 1991 Rawlins football team that lost 16-0 to the Hafey-led Bulldogs. Hafey was starting quarterback, Olinger, starting middle linebacker.
Rawlins has lost their last three games by a combined score of 95-0.
Moffat County lost last year's homecoming game, 20-6.
The teams do not share a common opponent this season.
Before its current three-game losing streak, the Bulldogs won four homecoming games in a row.