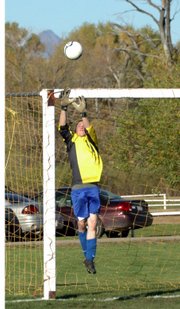 The Moffat County High School soccer team played a great first half Tuesday against visiting Glenwood Springs.
Unfortunately for the home team, two halves need to be played to complete a match.
The second didn't go so well for the Bulldogs.
The Demons broke open a close game in the second half, scoring six goals on their way to spoiling Moffat County's homecoming celebration, 7-0.
The sides were evenly matched throughout the games first 39 minutes, until Demon Ryan Young put the visitors on the board one minute before the intermission.
A 1-0 deficit for the Bulldogs turned into a Glenwood blowout once the teams returned to the field.
"We came out with more intensity in the second half," Demons coach John Mount said. "We played a lot more physical, got into a rhythm, and just wanted it more."
But not for the lack of effort on Moffat County's part.
The Bulldogs (1-10 Western Slope League, 2-10 overall) simply couldn't stay with Glenwood (6-2 WSL, 8-3 overall) for the entire 80 minutes, and it began to show in the second 40.
Freddy Ruiz scored 6 minutes, 40 seconds in, and the floodgates opened for the Demons.
Fabian Tapia (14:26), Travis Whitman (22:00), and Casey Montoya (26:00) scored to extend the lead to five, and two more goals by Tapia - giving him a hat trick - accounted for the final margin of victory.
"The first half we played really well," MCHS coach Rusty Cox said. "The second? I really don't know. We just didn't click like we did at the start."
Glenwood tightened its hold on the fourth spot in the league, while the Bulldogs lost their second consecutive game via the shutout.
Glenwood host Eagle Valley on Thursday, while the Bulldogs visit Palisade on Saturday.
John Vandelinder can be reached at 875-1793 or jvandelinder@craigdailypress.com