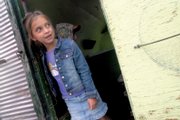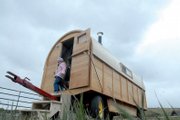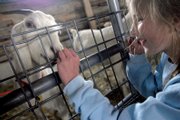 The buzzing of clippers raking through a sheep's wool mixes in with old-time music, adults and children laughing and talking.
About 12 people stand around a pen and watch as a sheep lies there, not seeming to care about the large blades cutting so close to its skin.
Albert Villard, the man cutting, stops for a minute and looks to Bill Walker.
"Hi there," Villard jokes. "You next?"
"I pro'ly look a little wooly," Walker responds, laughing.
Walker, who is visiting Craig from Salt Lake City with his wife, Renae, decided to stop by Sheep Wagon Days at the Wyman Musem because he "thought it would be a good place to be."
The whirring of the clippers begins again.
"Not many places you can watch someone sheer a sheep these days," he said.
Weather didn't hurt
Despite cold and rainy weather, about 200 people drove out to Wyman Museum on the third day of the four-day event celebrating its 10th year.
"It's a good part of our cultural heritage," said Nicky Boulger, office manager at Wyman.
"This is one of the reasons Craig is here - because of the sheep industry."
Sheep wagon tours, working dog demonstrations, goat milking and sheep shearing demonstrations, as well as hands-on stations in branding, butter churning, pottery, spinning and felting all were part of the event. New this year were mountain man and saddle-making demonstrations.
Bonnie and Gerald Fisher drove from Baggs, Wyo., to come to Sheep Wagon Days.
They stood in the blacksmithing shop, waiting for their old-time photos to print and talked about how they liked the restored sheep wagons. All the while, hammering from the blacksmith could be heard in the background.
Outside, three local teenagers were getting ready to have their old-time photos taken.
A little ways away, someone was starting a small fire for the Dutch oven.
And it seemed, if only just for a moment, that those old days were coming alive.
Hans Hallgren can be reached at 875-1792 or hhallgren@craigdailypress.com