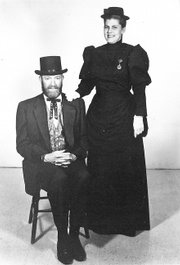 People often assume that a small-town boy can't make much of a difference in the big picture of Colorado or America, but several natives of Northwest Colorado have defied that thinking and served in high offices with dignity and determination.
One such native was William "Bill" Terrill, who started life on a ranch in Baggs, Wyo., on March 21, 1912. He grew up attending the Dixon schools and began his adult career as a pipefitter for the Union Pacific Railroad.
During his pipe-fitting days, he also worked part-time for the Cheyenne Police Department under Chief T. Joe Cahill. The discipline required in those jobs gave young Terrill a good foundation for the work that lay ahead of him.
In 1936, he married Lou Woods in Cheyenne, and the couple lived there until 1944, when they returned to Baggs and owned and operated a bar. The family moved to Craig in 1946 when Terrill became co-owner of Signal Hill Club and the Baker Bar and Cafe. Their two children grew up in the Craig community.
It has been said that law enforcement officers are born, not made. Terrill's father, John Sr., was a deputy sheriff in Carbon County, Wyo., for 16 years until his death in an automobile crash in 1923.
"He was about as tough as they come," remembered Bill during a 1964 interview.
Bill must have been feeling the draw of his calling when he successfully ran for Moffat County Sheriff in 1954. He was re-elected in 1958. During the same years, his older brother, John, was an undersheriff and later sheriff in Carbon County, and the two often worked on cases together.
The year 1961 was an important one for Terrill. In June of that year, a young girl was found brutally raped and murdered south of Craig at the Yampa River. Terrill and his men quickly found and arrested the two men who committed the murder just across the Utah state line. The men admitted the murder and also confessed to a killing spree that had stretched across the country and left a total of seven people dead.
A month later, the peace of Northwest Colorado was shaken again when two police officers from Kremmling were gunned down on Highway 40. Their murderer fled, but Terrill and other officers were able to track him down in short order.
Two months later, William Terrill became the highest-ranking law enforcement officer in Colorado when he was appointed U.S. Marshall by President John F. Kennedy. His brother, John, had been appointed U.S. Marshall for Wyoming four months earlier.
William Terrill served as a U.S. Marshall for two four-year terms, the second appointment was from President Lyndon B. Johnson. During his tenure, he gained the respect of law enforcement officers across the country.
With the political climate changing in the late 1960s, the job of U.S. Marshall was changed from an appointed position to that of a civil service job. Terrill faced the unfortunate fact that his appointment was about to end. He and his deputies had transported 3,000 to 4,500 prisoners each year of his tenure without one escape. He worked alongside his deputies, putting in many miles during transports. Many people felt that he should be allowed to remain in the position that he filled with such competency.
"Unpretentious and too proud to politic to keep his job, Terrill is on duty 24 hours a day, 365 days a year. Federal judges and officers of associated federal agencies with whom he works highly recommend him.
"Terrill deserves that recognition. So does Colorado and its citizens, who need the high caliber performance from its lawmen that Terrill exemplifies" (Daily Press, December 9, 1968).
Public opinion can't always sway government decision and William Terrill stepped down as U.S. Marshall in June, 1969, at the age of 55. He was called the "Lawman's Lawman" by his fellow officers, officers of the court and even the prisoners he dealt with. John retired his post the year before.
Bill and Lou Terrill maintained their home in Denver after his retirement. He died on May 2, 1973. A funeral was held in Craig, and then he was taken home to the Snake River Valley where he was interred in the Reader Cemetery. Lou died in 2000.
Written in cooperation with the Museum of Northwest Colorado and Craig Daily Press.
Shannan Koucherik may be reached at honeyrockdogs@msn.com