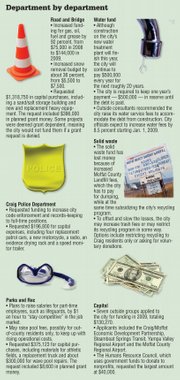 The city of Craig does not plan to shift priorities in the new year, City Manager Jim Ferree said.
There are small differences, he added, and some departments have more capital costs for replacement vehicles and such than others, but officials plan to continue the same resident services they have in previous years.
With one exception, Ferree said, of putting an added emphasis on enforcing city code ordinances.
Officials discussed a preliminary budget Thursday. The City Council will vote three times before a budget is finalized.
Ferree said final approval would probably come in November.
Clean your weeds
The Craig Police Department expects to increase its code enforcement position from part time to full time. The position now is split between part-time code enforcement and part-time records keeping.
"We're falling behind apparently in records and not doing as much as the City Council would like in code enforcement," Ferree said.
The city's six councilors and Mayor Don Jones discussed increasing penalties for code violations - specifically weeds and abandoned or parked vehicles - during a daylong budget meeting Thursday.
In the current system, a landowner with a weed problem receives a 10-day warning to cleanup. If they do within 10 days, the landowner can let the weeds grow out again and get another 10-day warning.
For automobiles, a person whose vehicle gets a tow tag has 72 hours to move it. If it's moved 10 feet, nothing happens.
"Yeah, that's not working," Councilor Bill Johnston said.
Instead, councilors and the mayor said the city should look at levying a $50 fine against habitual offenders, even if they take care of the warning ticket.
"Maybe we need to stop doing the good ol' boy thing about it," Councilor Ray Beck said. "If you break the rules, that's it."
Police Chief Walt Vanatta said law enforcement will do what the Council asks, but the city should expect a response from residents.
"We can write everybody a ticket the first time," he said. "Just be prepared when the Council meetings start."
Utility fees
The city manages its water, wastewater and solid waste utilities as enterprise funds, meaning each one is expected to support itself through fees, instead of being paid for by taxes.
The result is a utility fund that is operated as a business, city officials have said.
With operational costs going up and fees staying the same, however, the water and solid waste funds have been operating in partial deficits.
The water fund is a bit different because of the large expense from the water treatment plant, Ferree said.
Outside consultants recommended the city raise water rates 8.5 percent to offset the plant's roughly $9 million cost and to ensure at least a $500,000 reserve each year, which is required for the construction loan, he added.
City officials expect the rate change will take effect Jan. 1, 2009.
Recycling operations and landfill fees are dragging down the solid waste fund, said Randy Call, Craig Road and Bridge and Refuse Department director.
The city projects a $117,570 deficit for solid waste in 2009, though an estimated $391,000 reserve makes it less of an emergency, Ferree said.
Part of the problem is that the county has increased its landfill fees twice since the city last increased its fees to compensate. Since April, when the county increased landfill fees by $5, the city has lost money every month, for a total of $19,754.
Call suggested a fee increase to keep up with costs, but one city councilor wanted to talk about alternatives.
"This is the third rate hike we've talked about today," Johnston said. "I want to talk about other solutions."
Councilor Gene Bilodeau said the city should increase fees if it has to, not dismiss them because they're unpopular.
"As the people responsible for the city and its budget, if we need to raise rates, we need to raise rates," he said.
The recycling program also has become something of a burden, Call said, because the city collects recyclables from anyone but collects no revenue.
With people from Wyoming and Routt, Rio Blanco and Moffat counties dumping their trash for recycling, the city is forced to take trucks almost daily to the Waste Management recycling plant in Steamboat Springs.
The long and short is that labor and fuel for recycling has gone through the roof, Call said.
The city may need to limit recycling to Craig residents only, he said, or find some other way to finance the recycling program, such as voluntary donations.
One last point
Before adjourning Thursday's budget meeting, the mayor said the city needs to increase employee wages to keep up with the rising cost of living.
"We've always tried to take care of our employees," Jones said. "They are the crucial part of functioning the city."
Herod recommended a 5.5 percent raise and cited the federally projected inflation rate of 4.1 percent in 2008. City officials said Craig probably would have one of the highest inflation rates in the state.
"I've heard, 'Can the city afford this?'" Councilor Joe Herod said. "But the thing of it is, can (our employees) afford to keep working for us if we don't?"
A 5.5 percent raise for full-time city staff would amount to an additional $242,000, but with a $288,000 surplus, the city can afford it, Jones said.
"We need to invest in our staff," Bilodeau said.
Collin Smith can be reached at 875-1794 or cesmith@craigdailypress.com