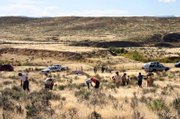 Community participation in this year's National Public Lands Day prompted Gina Robison to declare it the most successful one yet.
"This the best National Public Lands Day that the (Bureau of Land Management) Little Snake Field Office has ever had," said Robison, BLM outdoor recreation planner. "We had more people than ever before, and they worked their butts off."
More than 40 people came out Sept. 27 to Duffy Mountain, west of Craig. They helped build a trail, paint an informational kiosk and install a trail advisory billboard.
The projects are part of Robison's plans to attract residents and tourists to the Duffy Mountain area.
"It's so amazing there and so close to Craig," she said. "I took (some residents) out there and they couldn't believe how beautiful it is and that they'd never been there before."
Robison plans to create a mile-long interpretive hiking trail out of what volunteers helped build for Public Lands Day.
The path takes visitors to different rock formations cut by the changing weather, including a group of square boulders and other rocks with still-visible ripple marks from being underwater roughly 90 million years ago.
Another stop on the trail shows rocks with trace fossils in them, which look something like impressions in the stone.
In the future, Robison plans to build a driving trail through the area with 10 different stops, one being the hiking trail. Each stop would have interactive panels on local wildlife and scenery.
She also hopes to coordinate another trail connecting BLM land on Duffy Mountain with the Duffy River Access managed by Yampa River State Park.
"What I'm trying to do is get people outdoors," Robison said.
She added she hopes to have her project finished by the fall of 2010, however funding is fairly limited.
Residents can help, though, and they don't have to give any money.
"Just come out for these events, that's the best way to help," she said. "If people can get involved, that's what we want."
For more information about Public Lands Day and Duffy Mountain, call Robison at 826-5083.
Collin Smith can be reached at 875-1794 or cesmith@craigdailypress.com