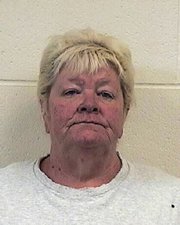 A court appearance for a former Moffat County Social Services employee accused of distributing drugs from a government office was continued last week in Moffat County District.
Carla Roloff, who had worked for Social Services since 1996, is charged with two counts of distribution of a schedule 2 controlled substance, a Class 3 felony.
The All Crimes Enforcement Team, an area task force, arrested her in June at her Dinosaur residence. Authorities alleged Roloff sold methamphetamine while at work in the Social Services' office in Dinosaur.
She is scheduled to next appear in court for a plea hearing at 2:30 p.m. Dec. 4, according to court records.
Jeremy Snow, a deputy district attorney for the 14th Judicial District, said a plea agreement has been offered to Roloff, but there has been no formal acceptance.
Because the case is ongoing, Snow said he could not comment on terms of the deal offered.
A conviction for a Class 3 felony is four to 16 years in prison, however, terms of any plea agreement could potentially alter sentencing.
Authorities reported that Roloff's arrest stemmed from undercover purchases, one of which allegedly occurred at the Social Services' office in Dinosaur, while she was on duty.
In other court news:
• Four days have been set aside for a jury trial next month in District Court.
James Barry is charged with kidnapping, robbery, felony menacing, extortion and assault, all felonies.
He has pleaded not guilty.
His jury trial is scheduled to begin at 8:15 a.m. Dec. 16, according to records.
• A 25-year-old Craig man - charged with varying sexual-related offenses - is scheduled for a jury trial beginning Jan. 2, 2009, in District Court.
The man, whose name is being withheld in accordance with newspaper policies on alleged sex offenses, is charged with three counts of aggravated incest and sexual assault on a child by someone in a position of trust, all Class 3 felonies.
He has pleaded not guilty.
His trial will be delayed briefly after it begins Jan. 2, and it is scheduled to resume Jan. 5 and conclude Jan. 7.
Joshua Roberts can be reached at 875-1791, or jroberts@craigdailypress.com.