To help
Anyone with information about the disappearance of Marie Ann Blee, a 15-year-old Hayden teenager who last was seen Nov. 21, 1979, in Craig, should call the:
• Moffat County Sheriff's Office at 970-824-4495 or
• Routt County Sheriff's Office at 970-879-1090
Marie's parents, Paul and Mona Blee, of Grand Junction, ask that anyone with information call CrimeStoppers at 824-3535, or the Blees at 970-241-3950. The Blees also said people with information may write to them at 2517 Ouray Ave., Grand Junction, CO, 81501.
People giving or submitting information about the case may remain anonymous.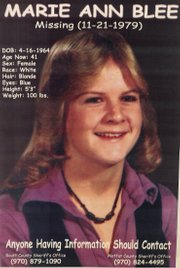 Evening. Nov. 21, 1979.
The small, pretty girl with blonde hair, blue eyes and an easy smile is getting ready at her parents' Hayden home. The night's plans revolve around a 4-H dance a town over, at the Moffat County Fairgrounds Pavilion, in Craig.
The girl fusses with her makeup a bit and primps her feathered, shoulder length hair.
She puts on blue jeans, a purple shirt, a brown velvet vest and green ski jacket with red and white trim.
The girl doesn't know it - no one does - but this is how she'll be remembered. Forever young, in these clothes, with this hair and that smile - the center of a grainy color image that will be captured in her missing person's poster.
When she is ready, the girl walks to the front door. Her ride is waiting.
She's 15 and excited to soon make the traditional rite of passage from youth to adulthood - earning her driver's license.
She is sweet, she is smart and she is popular.
She is happy.
Before the girl leaves, her mother stops her at the door.
The mother issues the standard lines of optimism, precaution and affection mothers the world over know by heart:
"Have a good time."
"Be careful.
"I love you."
The mother doesn't know that this moment is their last together.
She doesn't know that after this, life will be filled with a painful, hollow feeling brought out by not knowing what happened to her Marie Ann Blee.
She doesn't know any of this yet.
No one does.
A case cold as winter
A stack of thick binders and notebooks sits on KC Hume's desk at the Moffat County Public Safety Center.
Hume, a Sheriff's Office investigator, has worked on the Marie Blee missing person case in some capacity for the past 10 years.
In the binders and notebooks is a multi-jurisdictional catalogue of the case - witness accounts, field reports, photographs, forensics, news clippings -one of the largest case files at the Sheriff's Office today.
But despite the library of information on Marie and her disappearance, the case is as cold as a hard Northwest Colorado winter.
"It's an open case, but you could consider it a cold case," Hume said. "Without new information provided, : we really have nowhere else to go."
Marie left the dance Nov. 21, 1979, and went to a party at Shadow Mountain Village. From there, the trail stops.
While there are theories about what happened to Marie years ago - and there have been many - Hume concedes that one is most likely.
"My belief is that she met with foul play," he said.
Time will tell whether the case will ever be solved. Years gone by, fading memories and the scattering of people connected to Marie at the time make the possibility more remote.
But Hume doesn't consider someday learning what happened, and thus solving a longtime area mystery, to be impossible. One tip could do it, he said.
"I honestly believe it can be solved," he said. "It will require one of the individuals who has knowledge coming forward.
"Someone has to know."
After all this time, tips on Marie's disappearance still come into the Sheriff's Office.
Hume said two were reported to deputies this year, but none thus far have materialized into locating the girl.
Investigators track down all leads, he said.
"We follow up on all of those," he said, "no matter how insignificant it may or may not appear to be."
At this point, Hume said prosecuting anyone responsible for Marie's disappearance and likely death is secondary to locating her body and properly putting her to rest.
"It concerns me," Hume said, "that we aren't able to bring some sort of closure or resolution to Paul and Mona Blee. They are wonderful people that have been living with this every day since 1979.
"Each day that they wake up, they wonder where their daughter is and what happened to her."
'She's still 15'
There's a fine line trying to describe what life has been like for Paul and Mona since that night before Thanksgiving 29 years ago.
On one hand, they lead a happy life.
Paul, a retired industrial electrician, volunteers with the veterans hospital and Elks Club in Grand Junction. Mona, a retired addiction recovery counselor, volunteers as a Mesa County Sheriff's Office victims advocate.
They also are involved in church.
Paul tinkers around the house, serving as its only handyman. Mona plays bridge and golf with her friends.
They have children, grandchildren and great-grandchildren.
But, it's what and whom they don't have that haunts them today. They don't have Marie, and they don't know why.
"It's always there, in the background," Paul said. "It never goes away. We just want to know where she is."
"It's been horrible (not knowing)," Mona said. "It's a nightmare, the kind I'd like to wake up from."
Marie would be 44 now, an age difficult for Paul and Mona to imagine.
To them, she's still the outgoing little girl who had fun on a family trip to Germany shortly before her disappearance, still the little girl who was excited for the upcoming ski season, still the little girl in her sophomore year at Hayden High School.
"She's still 15," Mona said. "That's the picture of her in my mind."
They're not ready to believe they'll never have the answers they've sought for decades.
The couple leans on their faith during troubled times.
"I think (faith) is what kind of keeps us from falling apart," Mona said.
So far, there hasn't been an answer, but that doesn't mean that will always be so.
"It's not on my time," Mona said. "If it's supposed to be, it's going to be."
Each year, the couple writes a letter to area newspapers, pleading for assistance in locating Marie (see letters to the editor, page 6), so they can "show her the respect she deserves" with a proper burial.
"I guess we just kind of keep waiting for her to be found, so we could have something like that," Mona said.
Putting this unfortunate and long chapter of their lives behind them, rather than punishing whoever was responsible, is the Blees motivation today.
"I don't think either one of us are vindictive about it," Paul said.
"Vindictive goes away," Mona said. "The hurt never does."
Joshua Roberts can be reached at 875-1791, or jroberts@craigdailypress.com.