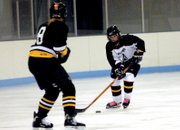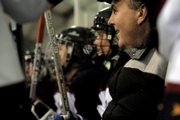 Game statistics
Craig Puck Ewes vs. Vail Twin Peaks
Team 1 2 3 F
Vail (0-0-1) 0 1 1 2
Craig (0-0-1) 0 2 2 4
First Period : 1, C, Strahan 1 (Eckroth) 1:30.
Second Period: 2, V, Sundgren 1 (unassisted) 10:37.
Third Period: none.
Overtime: none.
Shots on goal: Vail 12, Craig 14
2008-09 SEASON SCHEDULE:
Nov. 15: vs. Vail Twin Peaks T 1-1
Nov. 22: vs. Aspen Motherpuckers 2 6:15 p.m.
Dec. 6: vs. Glenwood Ice Queens 6:15 p.m.
Dec. 12: at Park City, Utah (tourney) TBA
Dec. 13: at Park City, Utah (tourney) TBA
Dec. 14: at Park City, Utah (tourney) TBA
Dec. 19: at Steamboat Edge 8:45 p.m.
Dec. 21: vs. Steamboat Storm 11:15 a.m.
Jan. 2: at Steamboat Storm 8:15 p.m
Jan. 10: vs. Fatty's Fury 6:15 p.m.
Jan. 11: vs. Steamboat Edge 11:15 a.m.
Jan. 31: at Fatty's Fury 6:15 p.m.
Feb. 5: vs. TBD (tournament) TBA
Feb. 6: vs. TBD (tournament) TBA
Feb. 7: vs. TBD (tournament) TBA
Feb. 14: vs. Down Valley Divas 11:15 a.m.
Feb. 21: at Vail Twin Peaks 6 p.m.
Feb. 22: at Down Valley Divas 11:15 a.m.
Mar. 7: at Aspen Motherpuckers 2 6:30 p.m.
Mar. 8: at Glenwood Ice Queens 1:30 p.m.
April 3: at Eagle (playoffs) TBA
April 4: at Eagle (playoffs) TBA
April 5: at Eagle (playoffs) TBA
After school is over, work is done and the family has been fed, daughters, wives and mothers around town are sneaking off.
But there is nothing covert or secretive about where they run off to or what they're doing.
These women are hockey players.
Meet the Craig Puck Ewes.
Three times a week, the team meets at the Moffat County Ice Arena to don skates, pads and helmets and race around the ice chasing a black rubber puck.
And to most, it's not just a hobby - it's a passion.
"I just love playing hockey," Rangely resident Kandice Torno said. "People think I'm crazy because I drive as far as I do, but it's what I love doing.
I don't care about what it takes; I just want to be on the ice."
The Ewes won back-to-back Colorado Amateur Women's Hockey League, Mountain Division championships in 2005-06 and 2006-07, and they advanced to the Frozen Four round of the playoffs last year.
On Saturday, the team was back on the ice for its season opener.
"We'd been waiting a long time" to get back on the ice, Tammy Strahan said. "It feels really good."
The Ewes tied the visiting Vail Twin Peaks, 1-1, in a hard-fought game that needed a 5-minute extra period.
The Ewes got on the board first, scoring 5 minutes into the first period.
Jamie Ekroth's wraparound shot bounced off the Vail goalie's skate into a waiting Tammy Strahan's wheelhouse.
Strahan deposited the puck into the back of the Twin Peaks net, scoring the team's first goal of the 2008-09 season.
"Well, I had to save my friend's butt," Strahan said. "She would have been doing suicides. She tried to score on a wrap-around, and I put it in with a backhand.
"It was great, it was awesome, it was euphoric."
Eckroth said she was just trying to make something happen.
"We were anxious to get going," she said. "I should have had to do suicides after that, so I got lucky when I got the assist to Tammy."
Vail tied the game on a breakaway goal by Kinnen Sundgren, 10:37 into the second period, that sailed through the four-hole of Ewes net-minder Torno.
The teams battled to a scoreless third, but not without some late-game drama.
With 30 seconds remaining in regulation, winger Shannon Young flew down the left side of the ice, drawing the lone Vail defender to her.
As Young crossed the blue line, first-year Ewe and 14-year-old Alexa Criswell, broke down the middle of the ice alone. Young hit Criswell with the pass.
"'Crap, I'm in so much trouble,'" Criswell said, sharing what went through her mind when she got the puck. "I got ready, brought it back and flung it."
The wrist shot went into the gut of the Twin Peaks goalie, keeping the game tied and forcing a sudden-death overtime.
"I thought we were done," Criswell said to Young while sitting on the bench.
"You haven't played with us before," Young replied. "We play to win."
To a team chant of "now or never," the Ewes returned to the ice for five extra minutes.
Unfortunately, what couldn't be decided in the first 45 wasn't resolved in the final five, either.
"Hey, it's a point," Jerry Strahan said. "A point is better than no points."
The main point established Saturday night, though, didn't get posted in the league standings:
It was that these women may be daughters, wives and mothers first, but on the side, for a few hours a week, they're hockey players.