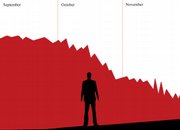 Quick tips
Financial experts say they know times are bad, but panic can cause people to act foolishly. Here is some advice for how to approach investing and retirement plans now.
• Base your retirement investments on two factors - how long you plan to keep working and how much risk you can handle.
• Those close to retirement should plan more conservatively, with more investments in cash and bonds and fewer in stocks.
• By contrast, those with longer to wait before retirement should pursue a more aggressive portfolio with a higher concentration of stocks, depending on how comfortable they are with the risk.
• All investments - cash, bonds and stocks - have proven profitable throughout 20 years, despite the associated risks.
• Start saving early, as investment plans grow exponentially as they get older.
Dave Pike turned 52 today.
The director of the city's Parks and Recreation Department said it's probably time for him to worry about his retirement - and time to plan more conservatively now that the stock market seems to be teetering on record lows.
But he hasn't planned conservatively.
"It worries me, because at my age, I need to be a little more conservative, but I just don't have a conservative personality," Pike said. "With the market as low as it is now, if you move your money now, you've lost that money. But, those people that stay in for the long term, they'll probably make that money back. I guess it just depends on how long you can wait."
Despite his optimism, Pike's retirement account does not look promising at the moment.
Like many workers today, his retirement is based on a defined contribution plan, such as any 401(k), 401(a), 403(b) or 457 account. He takes money out of his paycheck, which is then invested in cash savings, bonds and stocks.
Like many workers, Pike has a significant amount of his portfolio invested in stocks. With the market suffering historic losses in overall value recently, Pike's retirement portfolio has taken a turn for the worst, along with the retirements of many others.
"Obviously, it's not doing very well," Pike said. "I'm probably with the rest of the folks, weathering the storm. It's rather dismal right now."
His hopefulness, though, is exactly what experts recommend.
Don't panic, take advantage
Margarita Hughes, certified retirement counselor for Innovest Portfolio Solutions, recently visited Craig to counsel Moffat County employees on their retirement plans.
She recommended people manage their retirements based on two parameters: how many years they expect before retirement, and how tolerant they are to risk.
Among the three main investments types, cash is the most stable, bonds are slightly less stable but offer more return, and stocks are the least stable but offer the greatest return.
For those who plan to retire somewhat soon, retirements should be more concentrated in cash savings and bonds than stocks. Someone close to retirement has too much to lose to expose their money to a high amount of risk, Hughes said.
For someone in their 20s or 30s, an aggressive portfolio with more stocks is warranted, she added.
Simply put, Hughes' advice for those with time to wait: Hang on and don't panic.
"When you see there's a big sale down at a clothing store or somewhere, and everything is going for really cheap, what do you do?" Hughes said. "That's what this is (with the stock market). We see it as a time to buy low. There are lots of opportunities out there."
When people say the stock market is down, that means stock prices are low because they're not worth as much. Low prices make it a buyer's market, Hughes said.
Make no mistake, there's trouble
Hughes added she understands why people may be worrying. The national economy has serious problems.
The third quarter of 2008 - from July to October - was the first time the country had a decrease in gross domestic product since the 9/11 terrorist attacks, she said. Two quarters with a decrease in gross domestic product defines an economic depression.
Information Hughes passed out also showed the Standard & Poor's 500 stock index, which tracks the value of 500 of the largest publicly traded companies in the world, has lost almost 20 percent of its value from January to the end of September.
Also, when the economy does recover, it likely will take far longer to get back where it was a year ago than it did to fall into its current pit, Hughes added.
However, losses often come before gains.
"Are we looking at a recession?" Hughes said. "The indications are certainly there. But, if you see this happening, that then sets the stage for the recovery."
Better times are ahead for nation's economy
America's downturn won't last forever, Hughes said.
No one can predict when things will get better or how deep the losses will go, but for that same reason, Hughes said it is a bad idea to try and time the market.
Every investment - from cash to stocks - shows gains during a 20-year period despite the risks, she said. But when someone tries to pull out before the market dips, he or she runs the risk of missing out on big profits.
Essentially, someone who sells all their stocks now has lost money by buying at a higher price and selling at a lower price, Hughes said. The stocks will not be valued so low forever, though, and the best thing to do is wait for the market to recover so those potential losses can become gains.
"Nothing is broken right now with the system," Hughes said. "This is just the stock market. Don't panic over short-term results, because we need to think about the bigger picture."
Hughes also said anyone who can afford to should begin putting money in a retirement plan. Although the plan's value almost certainly will drop in the next few months, a person's savings grow exponentially as the years go by.
"The sooner you begin to save, the better off you're going to be," she said.
Worry about future, but stay calm about past
Pike said he knows how much money he's lost in the past year, not to mention the past month.
"Anyone who chose to be aggressive with their retirement plan is hurting right now," he said. "Hindsight is 20/20, and looking back on it, if you had put some of your money into bonds even in September or October, you could have protected a lot of your assets."
While that would have been great, Pike said there's no use worrying about would-haves and could-haves.
"I'm riding this out because I have to," he said. "If I sell now, that's a loss. As far as I'm concerned, now is not the time to do it."