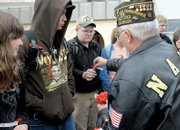 What do you usually do to honor Veterans Day, if anything?
"We spend the day with the VFW : (and) usually do one (program) at the high school if we can."
- David Walters, Craig resident and VFW Post No. 4265 commander
"I don't have any way to celebrate it." (Moore added she had to work on Veterans Day this year.)
- Sara Moore, Craig resident
"I usually buy a (Buddy) Poppy, - at least one - and I normally would go to the Newcastle Cemetery (in Colorado). They have a nice veterans display there."
- Brenda Gustafson, Craig resident
"Normally, we don't do anything, actually. : It's not that I don't think it's important. It's just that life is so hectic, busy. You don't have the day off, so it runs as a normal day. It's unfortunate, because (Veterans Day) is pretty important."
- Tamra Byrnes, Craig resident
"Not really. I just don't. Usually, I'm always working."
- John Ages, Craig resident
Buddy Poppies
The VFW Buddy Poppy program, which raises funds for veterans and their families, began its first nationwide distribution before Memorial Day in 1922. The following year, VFW officials decided to turn the program into a fundraiser for needy and disabled veterans.
The VFW pays veterans in VA hospitals to assemble the red, cloth poppies. Proceeds from Buddy Poppy sales also help fund the VFW national home for veterans' orphans and widows and supports veterans' rehabilitation and service programs at state and national levels.
The poppy, the VFW's official memorial flower, has symbolic significance.
"Among all the flowers that evoke the memories and emotions of war is the red poppy, which became associated with war after the publication of a poem written by Col. John McCrae of Canada," according to the VFW's Web site. "The poem, 'In Flander's Field,' describes blowing red fields among the battleground of the fallen."
Gray clouds hung over snow-dusted hills south of Craig on Tuesday morning.
A late autumn chill was in the air, making students, law enforcement officials and various community members don their coats before gathering near Moffat County High School's front entrance.
It was a far cry from the climate Ben Rinker left eight months ago.
In March, Rinker, now an Army reservist, finished a three-year tour in Iraq with the U.S. Army.
Rinker, of Craig, was among the audience members who listened as Bud Nelson, VFW Colorado District 9 commander, made introductory statements for the 2008 Veterans Day service Tuesday at the high school.
An estimated 75 to 100 MCHS students attended the optional event, as did about 30 community members. Moffat County Sheriff's Office employees provided refreshments, while members of three local veterans' groups - American Legion Post No. 62, Sons of the American Legion and VFW Post No. 4265 - participated in the service.
Nelson spoke about military service members stationed in Iraq experiencing 120-degree heat in full battle gear. In his estimation, that picture made Tuesday's chilly weather seem less unpleasant.
"You know, this is a pretty nice day," he said to his audience, many of whom were huddled in jackets.
Rinker remembers Iraqi weather being even more unforgiving. He recalled periods when he sweltered in 140-degree heat with 80 percent humidity.
He remembers something else from his time in Iraq that, for him, highlights the importance of recognizing those who serve their country.
"To be completely honest with you, there were a couple suicides over there because they didn't think anyone cared," he said.
As he spoke, Rinker wore a heavy, green-and-brown camouflage jacket. A patch over one pocket read "US Army." And, in his top buttonhole, Rinker had placed a red, fabric Buddy Poppy, the VFW's official memorial flower.
Rinker, whose family has lived in Moffat County since 1902, also recalled when Craig used to host an annual Veterans Day parade. Those events took place in the years leading up to 1999, when Rinker joined the U.S. Navy.
Rinker served in the Navy until August 2003. Then, in 2005, he enlisted in the Army.
Rinker said he wished Craig would revive the Veterans Day parade.
"(The parade) encourages more of the population to support their troops," he said.
After the service, Bill Harding, Moffat County veterans service officer, surveyed the crowd.
His estimated turnout numbers show interest in the holiday may have diminished since last year, but not by much. Between 25 and 50 fewer people attended this year's Veterans Day service than in 2007, Harding said.
"They had more kids outside last year, I know that," he said.
Still, from his view, the number of people at Tuesday's service wasn't exceptionally small.
"It was still a good crowd," he said.
Velvet Warne, 15, was one of a crowd of MCHS students at the service Tuesday morning. She said she thinks most students her age don't honor Veterans Day unless they have relatives serving in the military.
Warne, an MCHS sophomore, belongs to that group. Her uncle served in Operation Desert Storm in the early 1990s, she said, destroying or repairing aircraft that had crashed behind enemy lines.
"I'm thankful for everyone who does serve our country," she said. "I think Veterans Day is very good for them. They did great things for our country.
"They help keep us free, and they deserve to be recognized."
David Grabowski, MCHS math teacher and Army veteran, said Veterans Day shouldn't only focus on active service members.
"I think it's just a time to honor all veterans - not just those serving currently, but all veterans throughout the years," he said.