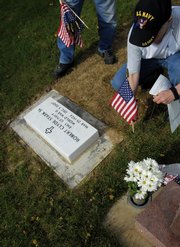 If you go
What: Memorial Day service
Where: Craig Cemetery
When: 11 a.m. today
What: Memorial Day service
Where: Maybell Cemetery
When: 3 p.m. today
Both sponsored by Veterans of Foreign Wars Post 4265 and American Legion Post 62
Craig — Amid the countless flower-adorned gravestones of Craig Cemetery stand small visions of red, white and blue. These miniature American flags mark the resting place of veterans recognized posthumously on Memorial Day.
Veterans of Foreign Wars Post No. 4265 and American Legion Post 62 work every year to honor these soldiers. Beginning at 5 p.m. Sunday, members of the organizations spread out among the cemetery's sections to ensure that every veteran's grave was given a flag in honor of their service.
"We have between 500 and 600 flags that we plan to use," said Bill Harding, Moffat County Veteran Service Officer. "The Beckett family did a lot of work earlier, placing flags in the veterans' section. We work to find the vets buried in other parts of the cemetery."
Harding is a veteran of the Vietnam War, with the Navy designation radarman 2nd class.
The Becketts' efforts are a continuation of family patriarch Vic, who passed away last June. As a former Commander of the American Legion and World War II veteran, Vic Beckett's work with the flag placement was a tradition dating back more than 50 years.
"We did the flags this year as a tribute to Dad," Vic's son Foster said. "We'll do whatever we can to help the American Legion with the job in the next few years."
Michael Lausin is the Commander of the Sons of the American Legion Squadron 62, an offshoot of the American Legion.
"I've been working with the flags for five or six years," Lausin said. "I first got involved with the Memorial Day honor guard about 11 years ago when somebody just placed a gun in my hands. All of us here are just doing our part to honor those who died in service to their country."
Lausin served during Vietnam as a Petty Officer 2nd class in the U.S. Navy.
Community volunteers assisted with the flag placement, among them Craig residents Toni Cartwright and her husband Ray.
"We've always talked about doing this, but this is the first year we actually made it," Toni Cartwright said. "Our son Jeff was in the Army from 1992 to 2004. He's a civilian now, but his service helped make us realize that Memorial Day is extremely important."
Jeff earned the rank of staff sergeant during his time in the Army.
Further Memorial Day acknowledgement of veterans will start at 11 a.m. today in the veterans' section of the cemetery. The names of all deceased Moffat County veterans will be read aloud and honored with a traditional 21-gun salute.
Vietnam Moving Wall Scholarship beneficiary Gavin Thompson will read his award-winning speech. Maybell veterans will be honored in the same fashion at the Maybell Cemetery at 3 p.m.
Andy Bockelman can be reached at 970 -875-1796.