Photo Gallery
MCHS Class of 2008 graduation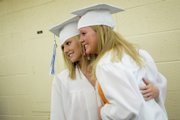 Craig — Some cried.
Some cheered.
And some celebrated, volleying plastic beach balls while they stood in line to receive their high school diplomas.
2008 Moffat County High School seniors officially completed their high school education Saturday during a graduation ceremony in the school's gym.
Before presenting the 2008 Outstanding Senior award, Sylvia Duncan, high school English teacher, put a question to the white-and-blue clad seniors in the center of the gym's floor.
"It's your time to finally fly," she said. "Are you ready?"
Cheers from the throats of more than 150 seniors answered her question.
Javier Maldonado was one of those students. With his high school career behind him, he said he plans to attend WyoTech, a technical school in Laramie, Wyo. There, he said he hopes to gain the skills needed to own his own automotive mechanics business.
"I'm so excited," he said after the ceremony.
"Now, I'm really happy to get on with my life, to go out on my own," he said.
For each graduating senior, a tassel and diploma testified to his or her achievement. Still, those weren't the only souvenirs students took with them.
More than 45 students will leave the high school with scholarships from area and non-local sources.
Other students left with recognitions of another kind.
A panel of school staff selected Travis Wilson and Emily Norris as this year's outstanding seniors.
In Norris' case, character played a large role in receiving the award, said Eric Hansen, high school world history and economics teacher.
Norris "strives to be a good person in everyday life (and) in anything she does," he said.
Duncan praised Wilson for his dedication to learning.
"For him, it isn't a matter of random facts," she said. "His joy of learning is about connections - connections between ideas and, as always, between people."
For one 2008 graduate, recognition came several decades behind schedule.
Dennis Collins, who originally was in the Moffat County High School graduating class of 1966, enlisted in the Navy in 1964. Instead of graduating with his class, he served in Vietnam.
Collins received his high school diploma Saturday through "Operation Recognition," a program authorized by state law that grants high school diplomas to select veterans from World War II, Korea and Vietnam.
Jane Harmon, Moffat County High School principal, commended Collins for his achievement.
Ultimately, students said, graduation will open new doors for the Class of 2008 even as it closes others.
"It's our turn now to have a say in what happens in our lives," said Angelia Simpson, graduating senior and commencement speaker.
In a speech welcoming students, staff and family to the ceremony, senior Tanya Rinehart put it another way.
"We have the chance to show the whole world who we really are," she said.
Bridget Manley can be reached at 875-1795 or bmanley@craigdailypress.com