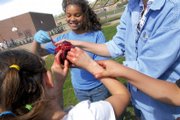 Craig — With a pair of scissors, fifth-grader Eloy Hernandez points to a whitish tube near the top of what was once a sheep's windpipe.
He thinks it's the esophagus, he says.
But, he's not sure.
So, with scissors in hand, he decides to find out.
"Oh, sweet," Hernandez exclaims, as the blades do their work on the tough, yet fleshy, tube.
He determines his hypothesis was correct. The tissue's toughness indicates that it is, in fact, the esophagus, he said.
Similar scenes played out among eight Craig Intermediate School fifth-grade science classes Wednesday afternoon. Dissecting sheep hearts and lungs culminated a unit on the circulatory and respiratory systems that lasted more than one month.
"It really reinforces what they learn in class," said Dee Dee Ghirardelli, CIS fifth-grade science and math teacher.
Deb Frazier, CIS Title 1 Reading teacher, is of the same opinion. Frazier taught science at the intermediate school until three years ago and once held the science department's chair position.
"It makes a big difference," she said. "We have diagrams of the heart and the lungs that the kids study.
"But, their image of what a heart looks like and a lung looks like isn't very clear."
That image is unclear, that is, until students can cut into a heart or lung and see the inside of the organs for themselves, Ghirardelli said.
"They really remember those parts," she said.
Custom Quality Meats donates 50 to 60 sets of hearts and lungs each year to CIS for the dissection, store owner Dave Tafoya said. The facility freezes the organs until they're ready for dissection in the spring.
Then, there is the bookwork. Students must study the heart and lungs on paper before they can explore the organs first-hand.
Like the dissection, some in-class assignments during the unit allow inquisitive fifth-graders to explore the circulatory and respiratory systems interactively.
During a previous lesson, Ghirardelli laid out a large poster showing a cross-section of the heart. Students then walked across the poster, tracing blood flow through the arteries, veins and chambers of the heart, she said.
In Ghirardelli's class, students must pass a test covering parts of the heart and lungs before they can go to work on the real thing.
Dissection is optional for any student who chooses not to participate, she said. But, Frazier added, that instance is rare.
"They'd think they may not like it," Frazier said, "but once they see it going on, it's hard to resist."
Students' response to the activity seemed to back up her words.
Ghirardelli and Kristi Shepherd, also a fifth-grade science teacher, moved around groups of students huddled together around dissection stations set up on the school's lawn.
Teachers take dissections outside, Ghirardelli said, to give students fresh air during what can become an unpleasant-smelling activity.
Few students, however, had much to say about that part of the lesson. Instead, with gloved hands, they poked and prodded, naming off parts of the organs they held.
Some students look forward to dissection all year, Ghirardelli said.
And that, Frazier believes, is one of the lesson's strengths.
"When kids are motivated to learn, they make connections in their brain," she said. "They can relate it to what they know and then, it's much more effective."